South-East Asia Regional Community Safety and Resilience Forum | 18-20 April 2017 | Kuala Lumpur, Malaysia
18 April , 2017

-

20 April , 2017
The Regional Community Safety and Resilience Forum 2017 was hosted by Malaysian Red Crescent Society, with the support of IFRC CCST Bangkok, from 18-20 April, in Kuala Lumpur, Malaysia. The Forum was held with the participation of 32 representatives (Disaster Management, Health, OD and Youth) from 11 National Societies in the South East Asian Region – Brunei Darussalam Red Crescent, Cambodian Red Cross, Indonesian Red Cross, Lao Red Cross, Malaysia Red Crescent, Myanmar Red Cross, Philippines Red Cross, Singapore Red Cross, Thai Red Cross, Timor-Leste Red Cross and Viet Nam Red Cross.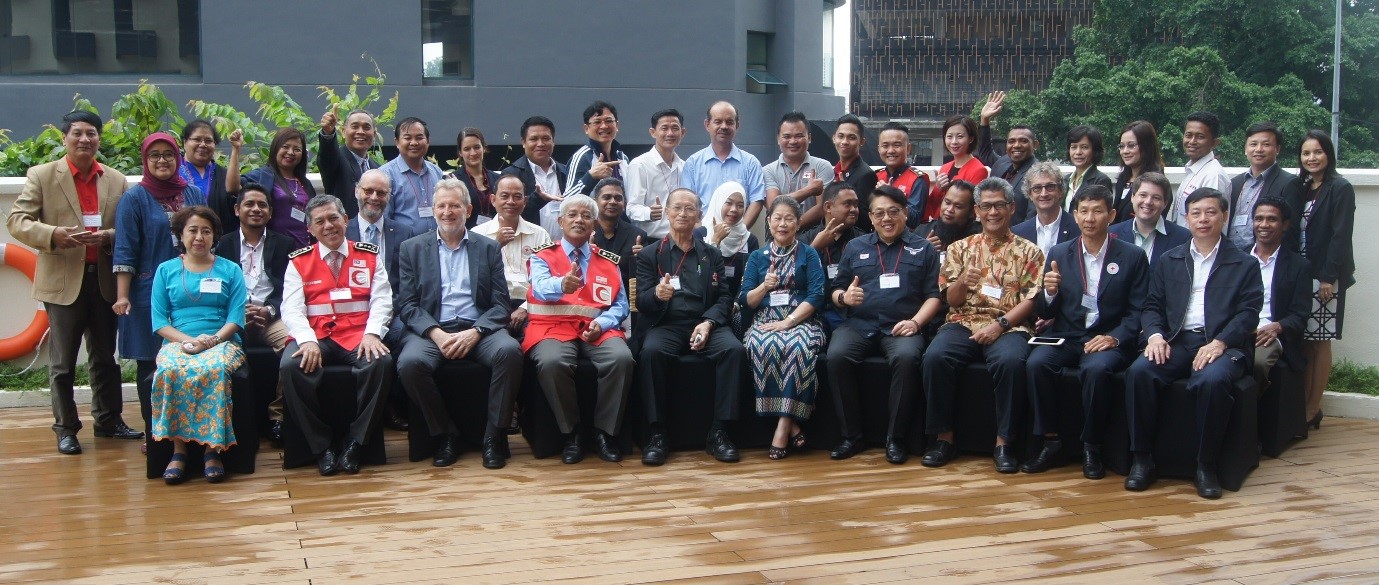 The purpose of the Forum is to enhance regional integration, coordination, communication and cooperation between SEA RCRC members. It is tasked to translate the results of the strategic policy and direction decisions of the Leaders into the operational action to promote the establishment of safer and resilient communities. This Forum is responsible for escorting (i) the global agendas of SDGs, Sendai Framework for DRR and Paris Agreement; (ii) Engaging with ASEAN; (iii) 1 Billion Coalition; (iv) Cross Border Cooperation; (v) School Safety; and (vi) Sustainability of National Societies.
The Forum saw significant increase in terms of participation and ownership of the National Societies in debating and finding better ways to work together as well as to advocate for the key outcomes of the meeting, along with some exchange learning sessions among the National Societies.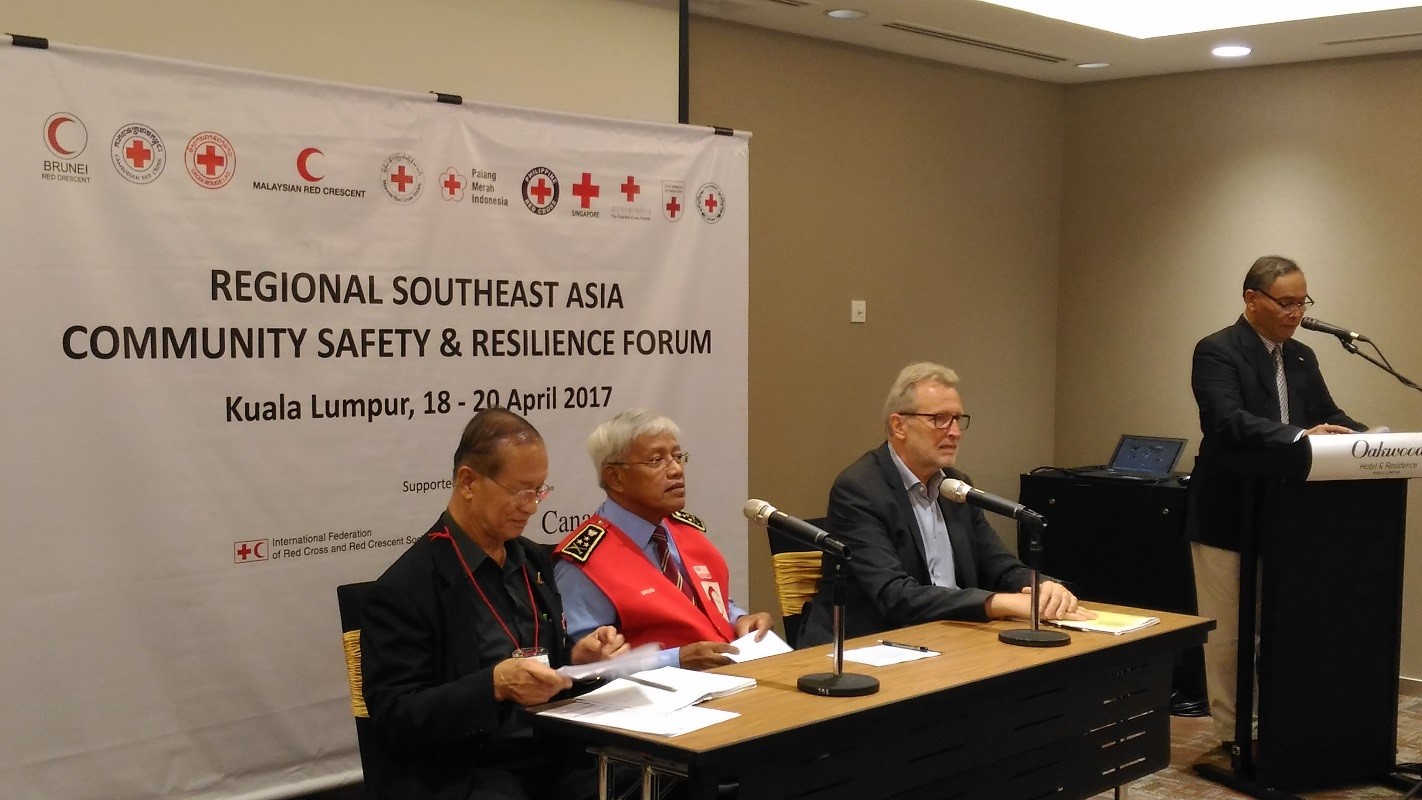 The Forum offered an opportunity of visit to two social inclusion centres (i) Anjung Singgah – a temporary transit shelter initiated by the Ministry of Women, Family and Community Development which provide them a space and opportunity to live independently. The homeless people are able to stay up to two weeks while waiting to secure  jobs or a permanent places to live; and (ii) People with Disability Centre run by the Ministry of Welfare, which provides social support and social inclusion to PWDs in Malaysia.
Supporting documents
» Regional Community Safety and Resilience Forum Agenda
» Participant List
» Practical Information – Visit to Kuala Lumpur
» Roadmap for Regional Cooperation
» Graphic: Resilience House
Outcome document: Final Report
Powerpoint presentations
Day 1
» Action plan: Strengthening Brunei Red Crescent Society 2017-2020
» Brunei Red Crescent Society: Community resilience and empowerment projects
» Cambodia Red Cross Society's contributions to CSR roadmap
» Timor Leste Red Cross Society's contributions to CSR roadmap
» Health, disaster management, organizational development and youth projects for CSR roadmap
» Indonesia Red Cross Society's organizational development, health and disaster management updates for CSR roadmap
» Lao Red Cross' contributions to CSR roadmap|
» Malaysia Red Crescent Society towards CSR roadmap
» Singapore Red Cross Society's community-led action for resilience
» Thai Red Cross Society's disaster management and health updates for CSR roadmap

ASEAN engagement
» Red Cross and Red Crescent societies' technical engagement with ASEAN: Milestones since the last CSC Forum in August 2015
» Working with ASEAN: Towards emerging IFRC's strategy for engagement
Global agendas
» IFRC and Sendai Framework for Disaster Risk Reduction (SFDRR)
» IFRC's contributions to Social Development Goals (SDGs)
» Post-2015 regional and global agendas and IFRC
» Translating global agendas in South-East Asia
» South-East Asian National Societies' global agenda mapping
» [Outcome document] South-East Asia global agendas engagement plans
Day 2
» Disaster crisis and response principles and rules for Red Cross Red Crescent

1 billion coalition for resilience
» 1 billion coalition for resilience
» 1bc working group 1
» 1bc working group 2
» 1bc working group 3
Site visit
» Field visit to Malaysia Social Welfare Department
» Malaysia Red Crescent Society's Home for the Homeless programme
Thematic session
» Integrated school safety approach
» Sustainability of National Societies
» [Outcome document] Gender and diversity working group report
Day 3
» CSR Forum roadmap session
» Key messages from the global platform for disaster risk reduction
» Factsheet for Disaster Risk Reduction mapping, 2016
» [Outcome document] CSR roadmap for regional cooperation 2016-2020