The resilience library
Supports the Southeast Asian Red Cross and Red Crescent Societies in promoting integrated approach in all their activities, in order to strengthen community safety and resilience through regional learning, sharing and collaboration.
Southeast Asian National Societies
Consist of Brunei Darussalam Red Crescent Society, Cambodian Red Cross Society, Indonesian Red Cross Society or Palang Merah Indonesia, Lao Red Cross, Malaysian Red Crescent Society, Myanmar Red Cross Society, Philippine Red Cross Society, Singapore Red Cross Society, Thai Red Cross Society, Timor-Leste Red Cross Society, and Viet Nam Red Cross Society.
Taking an integrated approach
Means ensuring close collaboration among different sectors (disaster management, health and organizational development), together with the cross-cutting components of gender and diversity, youth and volunteers, disaster law, advocacy and humanitarian diplomacy, migration, climate change adaptation, etc. to support community safety and resilience.
Report on work of National Societies on Strategy 2030 and Global Agendas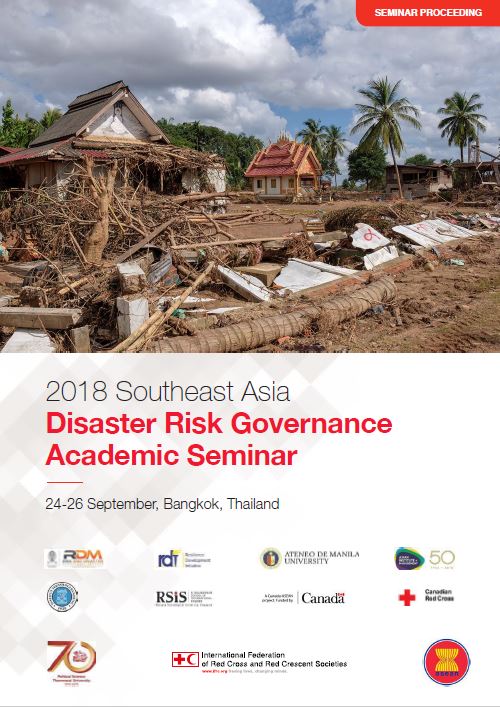 Disaster Risk Governance Academic Seminar 2018 – Proceeding
In April 2017, the ASEAN Committee on Disaster Management (ACDM) endorsed the Chairperson's proposal to collaborate with the International Federation of Red Cross and Red Crescent Societies (IFRC) on the "ASEAN Peer to Peer Learning: Disaster Law and Policy Platform".…

ASEAN Disaster Law Mapping
School Safety Mapping Documents for 11 countries (ASEAN + 1)
Preparing for disaster: Protecting Girls and Boys in Disasters in 7 Languages