The Southeast Asia Red Cross Red Crescent societies Regional Community Safety and Resilience Forum ('the Forum') brings together experts and practitioners to discuss the region approach to improving community safety and resilience from all the 11 countries in the region.
This is done by translating the policy, direction, and decisions from the Southeast Asia leaders, in accordance with IFRC Strategy 2020, IFRC Community Resilience Framework and other relevant agendas including Hyogo Framework for Action and the subsequent Sendai Framework for Disaster Risk Reduction, and Millennium Development Goals and Sustainable Development Goals in order to ensure Community Safety Resilience capacities of individual National Societies are being strengthened and the capability of the region to improve its capacity for Community Safety and Resilience.
The Forum enhances regional integration, coordination, communication and cooperation among them, with the facilitation of IFRC Bangkok Country Cluster Support Team.
2017: Regional Community Safety and Resilience Forum in Kuala Lumpur, Malaysia
2015: Regional Community Safety and Resilience Forum in Jakarta, Indonesia
2014: Regional Community Safety and Resilience Forum in Bangkok
2013: 17th Regional Disaster Management Committee (RDMC), Yangon
2012: 16th Regional Disaster Management Committee (RDMC), Singapore
2011: 15th Regional Disaster Management Committee (RDMC), Bangkok (see minutes)
2010: 14th Regional Disaster Management Committee (RDMC), Jogjakarta (see minutes)
2009: 13th Regional Disaster Management Committee (RDMC), Hanoi (see minutes)
2008: 12th Regional Disaster Management Committee (RDMC), Penang (see minutes)
2007: 11th Regional Disaster Management Committee (RDMC), Vientiane (see minutes)
2006: 10th Regional Disaster Management Committee (RDMC), Phnom Penh (see minutes)
2001 – 2005: 1st – 10th Regional Disaster Management Committee (RDMC) (see summary)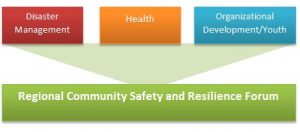 The
 Regional Community Safety and Resilience Forum 
(see the 
Terms of Reference
) is an annual gathering of:
Community Safety and Resiliece Forum Facebook group
[fts_facebook id=627897757254566 posts=5 posts_displayed=page_and_others type=page]