The Red Cross and Red Crescent societies aim to respond to disasters as rapidly and effectively as possible, by mobilizing its resources (people, money and other assets) and using their network in a coordinated manner so that the initial effects are countered and the needs of the affected communities are met.
The primary aims of disaster response are rescue from immediate danger and stabilization of the physical and emotional condition of survivors. These go hand in hand with the recovery of the dead and the restoration of essential services such as water and power. How long this takes varies according to the scale, type and context of the disaster but typically takes between one and six months and is composed of a search and rescue phase in the immediate aftermath of a disaster followed by a medium-term phase devoted to stabilizing the survivors' physical and emotional condition.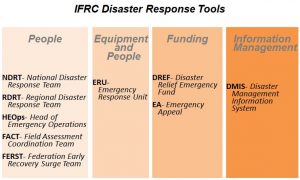 The International Federation has a variety of international and regional mechanisms or tools at its disposal to support disaster response. They are designed to ensure that assistance is delivered fast and efficiently to people affected by disasters through the provision of funding, experienced and trained human resources and appropriate emergency services. For more details, see this presentation and website.
Disaster relief provides assistance to protect life and health and meet the life-saving and immediate needs of people affected by disaster.
Source: IFRC Recovery programming guidance 2012, p.15
Disaster response covers relief, early recovery and recovery activities. Such activities cover all sectors but aim to achieve different outcomes for affected communities.
Source: IFRC Recovery programming guidance 2012, p.15
Guiding Documents from National Societies