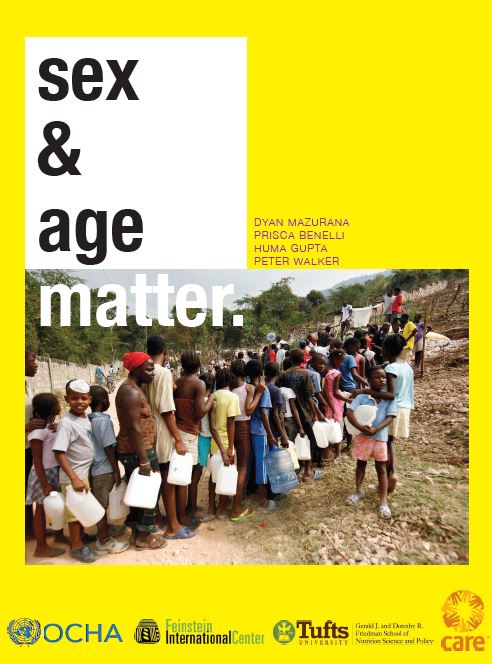 Purpose
This study's overall objective is to provide information on the collection and use of sex and age disaggregated data (SADD), and gender and generational analyses of SADD. It is intended to inform assessment processes by humanitarian actors responding to natural disasters and situations of armed conflict.
Overview
The document focuses on five clusters (education, emergency shelter, food security, health and water, sanitation and hygiene (WASH)). Within each cluster, it presents information from the published literature on how gender and age matter within these sectors for people living in crises caused by natural disaster and armed conflict. It then draws on interviews and published literature to examine if SADD is collected by UN lead cluster agencies, their partners and local agencies operating within these clusters and if so what, if any, difference it makes for programming.
Collection and use of SADD and gender and generational analyses enable operational agencies to deliver assistance more effectively and efficiently than without those data and findings, as illustrated by case studies and examples.
Usage: Learning from experience
Audiences: Technical staff; Gender and diversity practitioners
Reference: Dyan Mazurana, Prisca Benelli, Huma Gupta and Peter Walker, "Sex and Age Matter: Improving Humanitarian Response in Emergencies." Feinstein International Center, Tufts University, August 2011.

Document Data
Publication date:
Status: Final Type: PDF Size (MB): Size: 2.42
You might be interested in these resources: