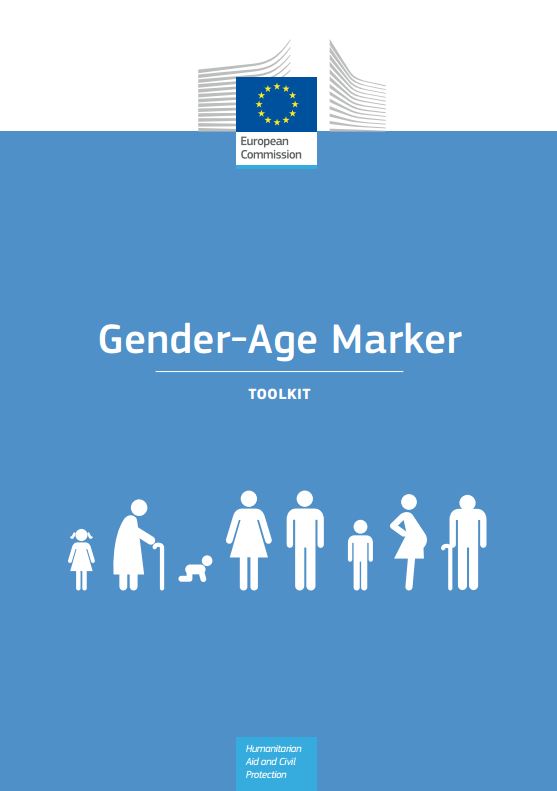 Purpose
This toolkit introduces the European Commission's new Gender-Age Marker for humanitarian action. It provides an overview of the tool and its application, as well as guidance on how to integrate gender and age concerns in humanitarian action and on how to apply the marker to humanitarian projects.
Overview
The Gender-Age Marker uses four criteria to assess how strongly humanitarian actions integrate gender and age considerations: gender and age analysis / SADD; adapted assistance; negative effects; and adequate participation.
Chapter 1 on the operational importance of gender and age presents arguments and examples demonstrating that humanitarian aid is of higher quality and more effective if it integrates issues relating to gender and age.
Chapter 2 provides tip sheets on integrating gender and age in humanitarian actions to support humanitarian workers in making their actions more sensitive to gender and age issues.
Chapter 3 provides detailed guidance on how to use the Gender-Age Marker in humanitarian actions.
Chapter 4 provides guidance on how to deal with difficult cases when using the Gender-Age Marker. For instance what to do if: only one dimension (age or gender) is well reflected; another important diversity dimension is missing; the context makes it difficult to integrate gender and age; the partner has made progress but still does not meet the criteria; the action is heterogeneous; there are no potential negative effects; different age brackets are used to report beneficiary data.
Usage: Guidance for project implementation
Audiences: Technical staff
Reference: Steets, J., Binder, A. & Foran, S. (2013). Gender-Age Marker. Toolkit. European Commission (pp. 1-83). Available from: http://ec.europa.eu/echo/files/policies/sectoral/gender_age_marker_toolkit.pdf [Accessed 8 January 2016].

Document Data
Publication date:
Status: Final Type: PDF Size (MB): Size: 0.886
You might be interested in these resources: