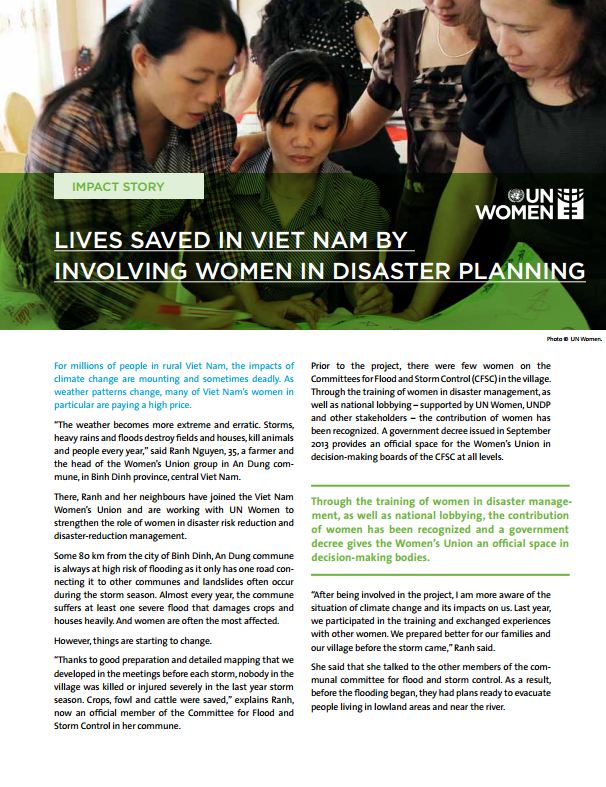 Purpose
This document looks at the impact achieved by a UN Women programme that strengthens the role women play in disaster-risk reduction and disaster-reduction management in Vietnam.
Overview
Prior to the project, there were few women on the Committees for Flood and Storm Control (CFSC). Through the training of women in disaster management, as well as national lobbying – supported by UN Women, UNDP and other stakeholders – the contribution of women has been recognised. A government decree, issued in September 2013, provides an official space for the Women's Union in decision-making boards of the CFSC at all levels.
Beneficiaries stated that due to good preparation and the detailed mapping that was developed in meetings before each storm, nobody in the village was killed or injured severely in the last storm season. They also discussed at meetings how to encourage people to harvest earlier before the storm season started.
A four-year-old boy was saved from drowning because his mother performed cardiopulmonary resuscitation (CPR) on him. She and another 120 women and girls learned this life-saving technique from the rescue and first aid training provided by the project.
Usage: Learning from experience
Audiences: Technical staff, Gender and diversity practitioners, Volunteers
Reference: UN Women (2014). Lives Saved in Vietnam by Involving Women in Disaster Planning. Impact Story (pp. 1-2). Available from: http://www.unwomen.org/~/media/headquarters/attachments/sections/library/publications/2014/un%20women_vietnam_us_web.pdf [Accessed: 23 December 2015]

Document Data
Publication date:
Status: Final Type: PDF Size (MB): Size: 0.367
You might be interested in these resources:
Beneficiary Communications and Accountability Baseline Assessment Grid (Tools) – Institutional Capacity for BCA in Response, Recovery and Development