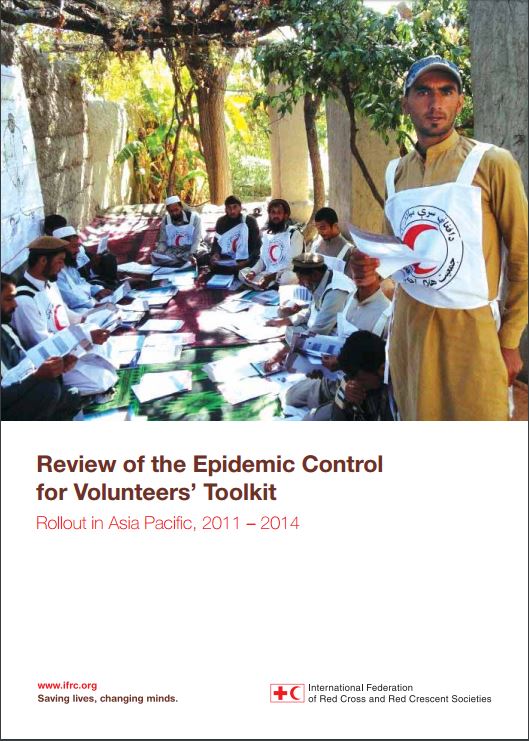 Purpose
This document provides a review of the Epidemic Control for Volunteers (ECV) Manual and Toolkit and its rollout in Asia Pacific. It includes case studies on the use of the toolkit in a number of countries in Asia Pacific.
Overview
The evaluation found the original English text to be clear and simple to understand, although there was some duplication between sections of sessions 2 and 3, especially in relation to the roles and expectations of volunteers. Graphics and drawings required contextualisation. National Societies were advised to adapt illustrations to their own settings.
The original ECV toolkit and manual covers 17 of the most common diseases occurring during epidemics. There are some diseases with epidemic potential that are not included in the toolkit. Some National Societies decided to include additional diseases after consultation with their national health authorities. The addition required a significantly higher degree of work compared with those disease pages that required translation and adaptation only. In some cases, the addition of new diseases to the tool delayed the whole production process.
The rollout of the toolkit was highly relevant and effective in meeting countries' needs, epidemic priorities and in the contexts of the community programmes. The strategy of sensitising the leadership of National Societies and relevant national authorities as the first step has proven to be highly effective in beginning the rollout of ECV as this helped pave the way for mainstreaming it into National Societies' health programmes or those of national authorities, as well as emergency contingency planning. The approach of mainstreaming and integration into existing health or disaster management programmes was also widely recognised as appropriate to ensure sustainability and optimal use of resources.
Recommendations from the evaluation include: keeping it simple; keeping it flexible; the need for National Societies to consider the toolkit as their tool, not an IFRC programme; keeping the training timeframe adaptable; considering additional options – online training, (and, for example, offline CDs); improving advocacy and the dissemination of the materials.
Usage: Learning from experience
Audiences: Technical staff
Citation: International Federation of Red Cross and Red Crescent Societies (2015). Review of the Epidemic Control for Volunteers' Toolkit. Rollout in Asia Pacific, 2011 – 2014. (pp. 1-72).
See related document: Epidemic Control for Volunteers: A Training Manual

Document Data
Publication date:
Status: Final Type: PDF Size (MB): Size: 1.7
You might be interested in these resources: