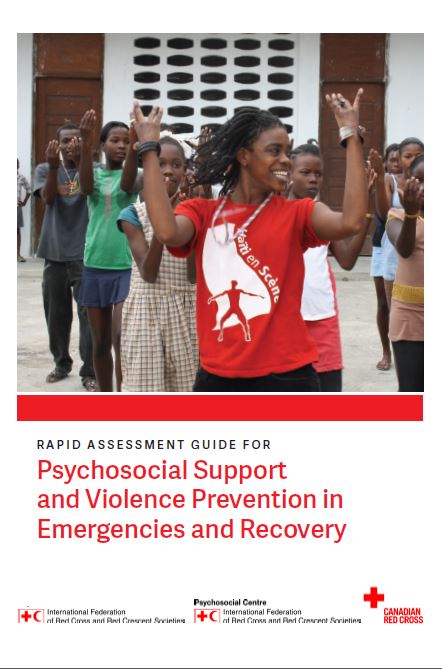 Purpose
This guide provides standards and directions on how to carry out rapid needs assessment for Psychosocial Support (PSS) and Violence Prevention (VP) initiatives including child protection and sexual and gender-based violence.
In particular, this rapid assessment tool is designed to help gather data in an efficient and effective way to help inform integration of PSS and VP issues, as minimum standards, into the broader disaster management action plans in response to an emergency.
Overview
Part 1 of the guide looks at setting up an assessment. This includes issues such as: standards; ethical guidelines for conducting an assessment (do no harm); ethical guidelines for conducting assessments with children; the approach; and forming an assessment team.
Part 2 deals with focus group discussions / questions for qualitative data collection: why it is important; and specific detailed questions for greater depth.
Part 3 looks at the situation/context questionnaire: why it is important; questions on physical layout of the community; questions on community leadership structure; overview of violence; questions on reports of violence; and reporting/referrals.
Part 4 is an environmental walk-around: an examination of the community/camp from which data is being collected from the perspective of the assessment team.
Part 5 deals with the internal questionnaire for leadership of the National Society; and
Part 6 looks at the importance of analysis checklists.
Usage: Guidance for project implementation
Audiences: Technical staff
Reference: Canadian Red Cross and IFRC (2015). Rapid Assessment Guide for Psychosocial Support and Violence Prevention in Emergencies and Recovery. Pp. 2-48. Available from: http://pscentre.org/wp-content/uploads/PSS-and-VP-Rapid-Assessment-Tool-Emergencies-and-Recovery-2015.pdf [Accessed: 18th July 2016].

Document Data
Publication date: January 1, 2015
Status: Final Type: PDF Size (MB): Size: 5.08
You might be interested in these resources:
Predictable, Preventable: Best Practices for Addressing Interpersonal and Self-Directed Violence during and after Disasters