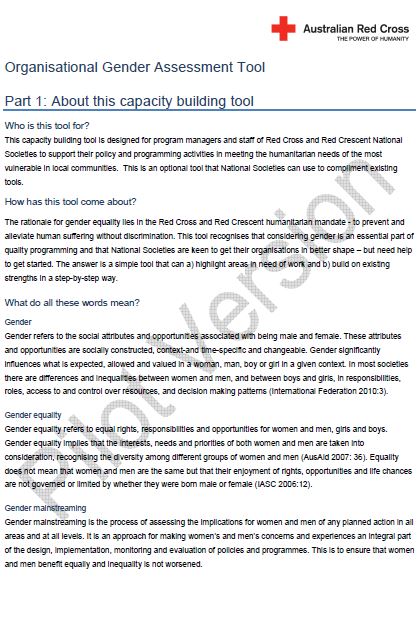 Purpose
This capacity-building tool is designed to enable National Societies become better placed to mainstream gender into policy and programming responses. The tool contains an assessment checklist and accompanying action plans.
Overview
The assessment checklist is a quick and effective way to determine the extent to which a National Society embraces and integrates gender into its core operations and programmes. It covers four areas: technical capacity; organisational culture; accountability; and political will.
There are four action plans to complete (one for each aspect of gender capacity and readiness). The action plans help to improve the capacity and readiness of a National Society to mainstream gender. The suggested steps that can be taken will depend on scores from the assessment checklist. Therefore, not all actions will be relevant to a National Society.
Usage: Guidance for project implementation, Monitoring and evaluation
Audiences: National Society leadership; Technical staff; Gender and diversity practitioners
Australian Red Cross (27 September 2010). Organisational Gender Assessment. Australian Red Cross. Pp. 1-15. Available from: http://www.redcross.org.au/files/Organisational_Gender_Assessment.pdf [Accessed: 18th July 2016].

Document Data
Publication date:
Status: Final Type: PDF Size (MB): Size: 0.31
You might be interested in these resources: