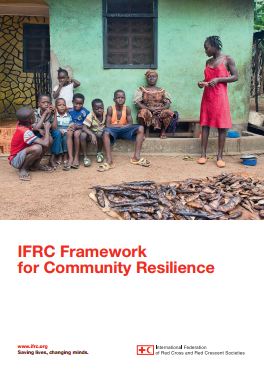 Purpose: 
This framework establishes a foundation on which all IFRC programmes, projects, interventions and actions, across the contexts, which contribute to strengthening communities, can be created, developed and sustained.
Overview: 
Key elements of the Framework for Community Resilience are:
Assisting communities as they adopt risk-informed, holistic approaches to address their underlying vulnerabilities;
A demand-driven, people-centred approach;
Being connected to communities by being available to everyone, everywhere, to prevent and reduce human suffering.
Three key elements for promoting community resilience are:
Measuring the various characteristics that comprise community resilience;
Measuring IFRC's impact on community resilience;
Measuring the incorporation and achievement of specific IFRC activities to supporting community resilience.
Usage: Policy guidance
Audiences: National Society leadership; Technical staff
For Fundamental Principles, click here Fundamental Principles, size 4 MB

Document Data
Publication date:
Status: Final Type: PDF Size (MB): Size: 0.62
You might be interested in these resources:
IFRC Strategy on violence prevention, mitigation and response, 2011 – 2020: Strategic directions to address interpersonal and self-directed violence