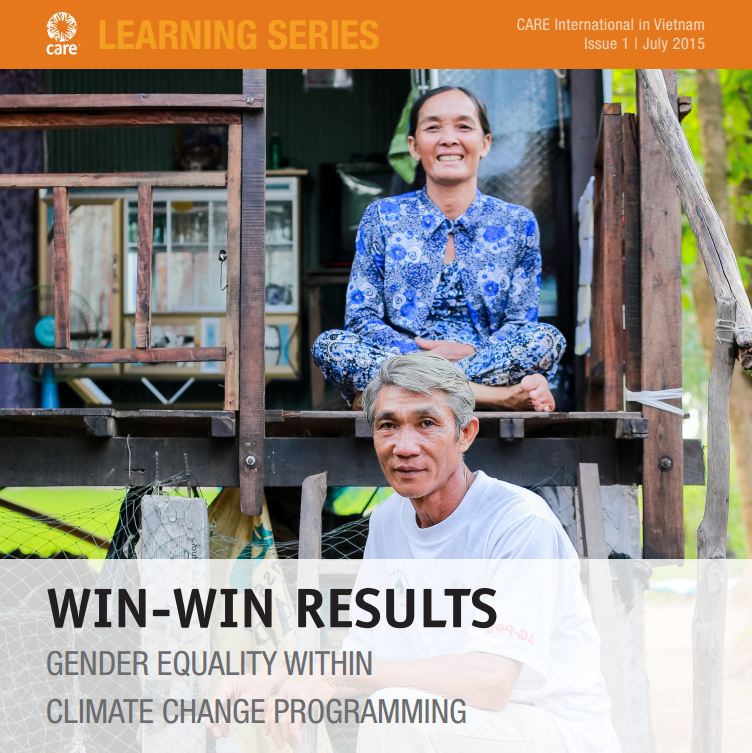 Purpose
This document presents key points on lessons learned by CARE in its work in Vietnam to promote gender equality and increase communities' resilience to climate change. It also provides examples and recommendations on how this can be achieved.
Overview
Understand resilience: common approaches and activities on gender in climate change tend to overlook differences between women and the factors apart from gender that influence women and men's different abilities to make critical resilience decisions. Comprehending the specific context and lives of women and men is critical to support women's leadership and voice and effectively transform negative gendered roles.
Address gender-based barriers: factors such as women's heavy workloads, limited decision-making power, and unequal access to, and control over, resources can prevent women and men from adopting resilience strategies. Agricultural and non-agricultural climate resilient livelihood strategies will be less effective and can inadvertently reinforce negative gender norms if they do not tackle these barriers.
Adopt an integrated approach: both gender and climate change must be addressed simultaneously if increased resilience and gender equality are to be achieved.
18-19 contain a framework for gender transformative adaptation in Vietnam.
Usage: Training, Learning from experience
Audiences: Gender and diversity practitioners, Technical staff
Reference: Care International (July 2015). Win-win Results. Gender Equality within Climate Change Programming (pp. 1-13). Available from: http://careclimatechange.org/wp-content/uploads/2015/09/Learning-Series-1-Win-Win-Results-2015_09_04.pdf [Accessed: 21 December 2015].

Document Data
Publication date: July 1, 2015
Status: Final Type: PDF Size (MB): Size: 17
You might be interested in these resources: