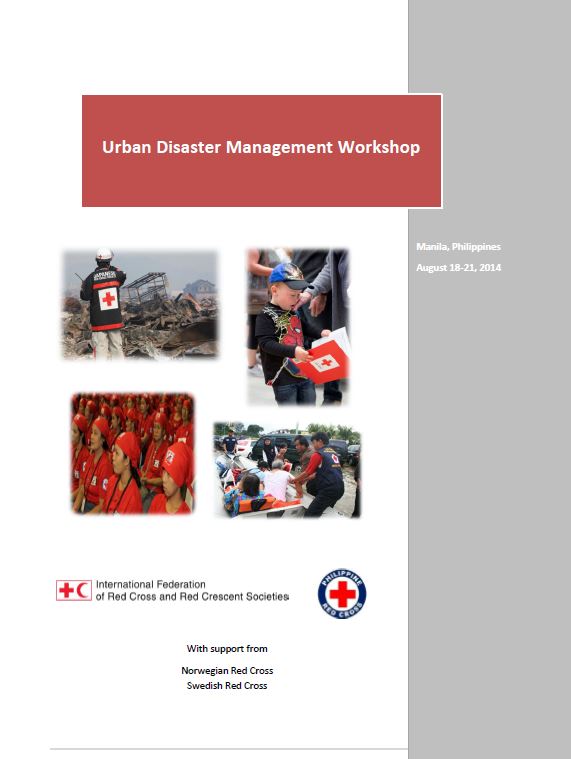 Purpose:
The report summarizes the workshop result of the Urban Disaster Management, by highlighting the workshop key messages.
Overview of the workshop:
The Urban Disaster Management workshop organized by Philippine Red Cross and IFRC, with the support of Norwegian Red Cross and Swedish Red Cross on 18-21 August 2014, in Manila, the Philippines, was a direct response to the many voices raised by National Societies to address urban Disaster Management issues with a progressive strategic and operational approach to urban preparedness, response and recovery.
The workshop brought together representatives from 15 National Societies from Asia-Pacific region, in addition to Partner National Societies, IFRC Secretariat, the ICRC, a range of representatives from Government authorities, UN, NGOs, academic and private institutions.
Objectives of the workshop:
Increase knowledge on emerging urban Disaster Management issues & sharing of National Societies good practice.
Provide directions for future strategic work – including a framework for the Asia Pacific zone on urban DRR and DM strategy.
Identify needs and opportunities for innovative approaches to urban Disaster Management.
Provide inputs to RCRC Asia Pacific statutory conference in Beijing, October 2014.
Provide inputs to the IFRC Global Approach and Guidelines on Urban DRR/DM.
Provide informed discussion on operational tools and services within the RCRC.
The various sessions throughout the workshop, including presentations, panels, group discussions and technical breakout sessions, discussed a range of various themes key to the urban environment, including, but not limited to:
Contingency Planning in Urban contexts
Urban Volunteer Management
Cash Transfer Programming
Urban Risk Assessment
Disaster Law in urban contexts
Violence in urban contexts
Engaging with multiple stakeholders
Environment and climate change
Lessons learnt from the Haiyan response
Following the feedback and prioritized discussion topics of the Disaster Management Reference Group, the workshop was structured with the guiding questions, including:
Where do we come from?
Where do we want to go?
How do we do it?
Usage: Learning from experience and initiatives
Audience: National Society managers and staff

Document Data
Author:
Publication date: August 21, 2014
Status: Final Type: PDF Size (MB): Size: 1.6
You might be interested in these resources: