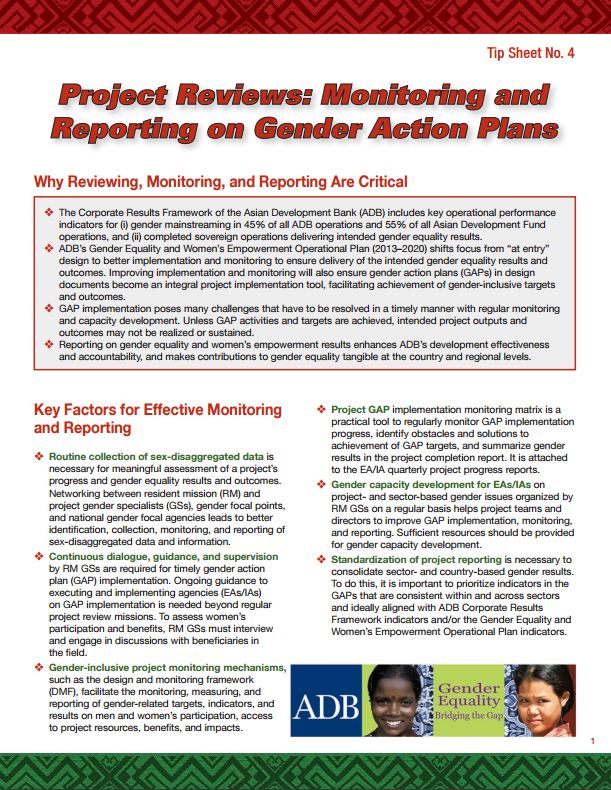 Purpose
This tip sheet presents key factors for effective reviewing, monitoring, and reporting on gender action plan implementation. It includes case studies from Lao and Nepal.
Overview
Key factors for effective monitoring and reporting include: routine collection of sex-disaggregated data for meaningful assessment of a project's progress and gender equality results and outcomes; continuous dialogue, guidance, and supervision by resident mission (RM) and project gender specialists (GSs) for timely gender action plan (GAP) implementation; gender-inclusive project monitoring mechanisms such as the design and monitoring framework (DMF) to facilitate the monitoring, measuring, and reporting of gender-related targets, indicators, and results on men and women's participation, access to project resources, benefits, and impacts; project Gender Action Plan (GAP) implementation monitoring matrix, identify obstacles and solutions to achievement of GAP targets, and summarise gender results in the project completion report; Gender capacity development for EAs/IAs on project- and sector-based gender issues organised by RM GSs on a regular basis to help project teams and directors improve GAP implementation, monitoring, and reporting; standardisation of project reporting to consolidate sector- and country-based gender results.
Usage: Guidance for project implementation
Audiences: Technical staff; Gender and diversity practitioners
Reference: Asian Development Bank (April 2013). Project Reviews: Monitoring and Reporting on Gender Action Plans (pp. 1-4). Tip sheet No. 2. Available from: http://www.adb.org/documents/tip-sheet-no-4-project-reviews-monitoring-and-reporting-gender-action-plans [Accessed: 28 December 2015].

Document Data
Publication date:
Status: Final Type: PDF Size (MB): Size: 1.436
You might be interested in these resources: