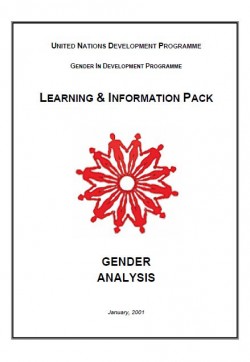 Purpose
This information pack comprises three sections:
Section 1 consists of four sets of slides. The slides set out key points for the reader, and accompanying commentaries expand on these points and provide links to materials available in Sections 2 and 3.
Section 2 includes reading materials, handouts and worksheets on issues raised in the slides.
Section 3 includes internet links and other resources on related issues. Full size slides, which can be used for presentations, are in the back of the manual.
Overview
The slides and resources cover:
the purpose of gender analysis;
the information and actions needed to link gender analysis with policy and planning;
key concepts and tools for social and gender analysis;
men and masculinity.
Usage: Guidance for project implementation, Training
Audiences: Technical staff; Gender and diversity practitioners
Reference: UNDP (January 2011). Gender in Development Programme: Learning and Information Pack. Pp.1-134. Available from: http://www.undp.org/content/dam/undp/library/gender/Institutional%20Development/TLGEN1.6%20UNDP%20GenderAnalysis%20toolkit.pdf [Accessed: 21st September 2016]

Document Data
Publication date:
Status: Final Type: PDF Size (MB): Size: 0.68
You might be interested in these resources: