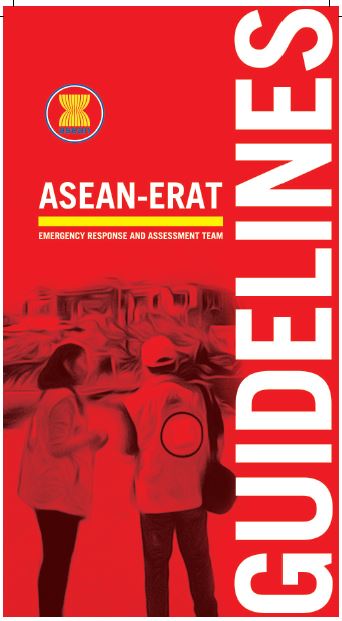 Purpose:
The ASEAN-ERAT Guidelines is intended as an easily accessible reference tool for ASEAN-ERAT before and during a mission to a disaster or emergency. The information on personal preparedness and pre-deployment arrangements, mission equipment and alert, activation and mobilization procedures provides guidance to the ASEAN-ERAT on their basic responsibilities as a regional responder. The further details on deployment procedures, rapid assessment methodology, reporting, on- site coordination and demobilisation should be used by the ASEAN-ERAT as they deploy to disasters regionally. This also allows the ASEAN-ERAT Guidelines to be used as a primary source of reference for training of the ASEAN-ERAT.
Overview:
The roles of ASEAN-ERAT (ASEAN Emergency Response and Assessment Team) includes rapid assessment, support to logistics, emergency communications, and coordination. ERAT has been deployed in Cyclone Nargis in 2008, Thailand Flood in 2011 and Bopha Typhoon in 2012.
The ASEAN-ERAT Guidelines is also closely linked to SASOP as it makes use of the existing emergency response procedures in the SASOP to facilitate alert, activation, mobilization and deployment of the ASEAN-ERAT.
The ASEAN-ERAT involves several key ideas:
Regional rapid response team
Deployment upon request
Be in support of national authorities
Immediate deployment (8 hours)
On site operation centre
Coordination / rapid assessment / logistic support
Deployment for approximately 10-14 days
Usage: Guidance for project implementation
Audience: Technical staff
For videos about ERAT, click here ASEAN Emergency Response and Assessment Team, 4th ASEAN-ERAT Induction Course video from Youtube

Document Data
Publication date:
Status: Final Type: PDF Size (MB): Size: 1
You might be interested in these resources: