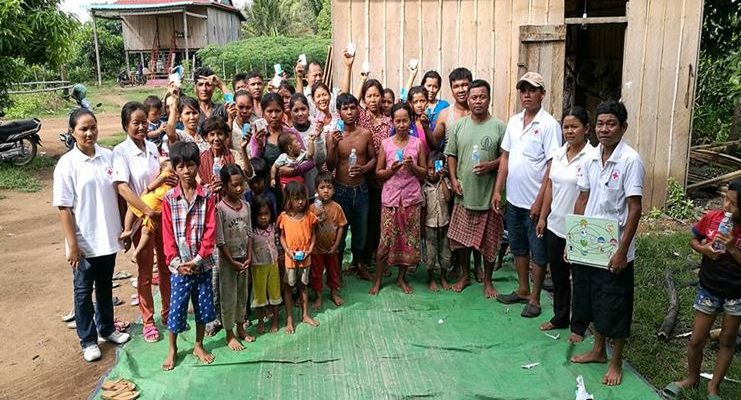 Cambodia Red Cross Water, Sanitation and Hygiene (WASH) Programme
In line with IFRC's Global Water and Sanitation Initiative (GWSI2005-2025), Cartier Charitable Foundation established partnership with IFRC to support and address water, sanitation and hygiene (WASH) needs of communities through community-based and community-driven approaches in:
3 provinces [Kratie, Svay Rieng and Banteay Mean Chay] of Cambodia,
3 of the most vulnerable region [Dry Zone, South eastern and Northern region] of Myanmar
The strategy of the project to achieve objectives is to reduce the health risks by improving access to safe sustainable water supplies, sanitation facilities and promoting hygiene practices for 22 communities (23,734 persons) in Cambodia and 22 communities (26,425 persons) in Myanmar by contributing towards:
sustainable access to appropriate water and sanitation facilities,
better understanding of the transmission routes and relation between water borne diseases and access to water and sanitation,
increased adherence to safe hygiene practices at household and community level,
better capacity to deal with unexpected events since the community is able to identify problems and plan solutions, and
better technological and managerial capacity to ensure sustainability of the project beyond the funding timeframe.
Cartier Charitable Foundation with IFRC will enhance coordination mechanisms of each National Society. A community-based approach will be adopted as the most effective means of empowering communities to manage their own water supply schemes and sanitation facilities. Active participation of district stakeholders and the beneficiary communities will be ensured from the very beginning and at every stage of the project cycle. The beneficiaries are the main actors of the project in implementation, monitoring and evaluation and managing of schemes and their sanitation facilities. During focus group discussions (FGD), beneficiaries will ensure contribution of locally available resources for construction of projects. Collaboration and linkages among partners will be strengthened to ensure effective coordination at all levels of the programme implementation.
Similarly, both Cambodian Red Cross and Myanmar Red Cross Society will work in close collaboration with their respective local governments that are responsible for the project area to ensure targets are being met as per the local and national priorities. To maximise the impact of this project an integrated  WASH approach is proposed with a strong emphasis in capacity building, coordination and within the bounds of good integrated water resource management (IWRM) practices at the community and catchment level. During project implementation, all users within communities including men, women, children, boys, girls, people living with disabilities, and other marginal groups will be involved to build sense of ownership. To protect and manage water supplies, the agriculture and rural development offices will construct soil and water conservation measures (bunds and check dams) in upper catchments of the water supply scheme and planting of trees around water sources not only as protection but also to mitigate the effects of soil erosion again as a good IWRM measure.