Philippine Red Cross Joins World AIDS Day 2016 | 1 December 2016 | Philippines
According to UNAIDS (Joint United Nations Programme on HIV and AIDS) fact sheet of 2016, globally, roughly 78 million people have become infected with HIV since the start of the epidemic. While approximately 39.8 Million people were living with HIV, and only 17 million of them were accessing antiretroviral therapy. Moreover, about 40.8 million people have died from AIDS-related illnesses since the start of the epidemic.
In the Philippines, as of October 2016, a total of 38,114 cases were recorded since the first case of HIV was diagnosed in January 1984. Of the total cases, 84% were reported from January 2011 to October 2016.
Based on the epidemic trends of National HIV/AIDS & STI Surveillance and Strategic Information Unit, Epidemiology Bureau of the Department of Health (DOH), 26 individuals are estimated to be newly diagnosed with HIV per day.
People Living with HIV do not transmit the virus by handshakes, casual talks, staying in the same room and/or even sharing of utensils while eating. People Living with HIV (PLHIV) are facing bigger issues other than the disease they have acquired but the discrimination and stigma they are encountering.
The Philippine Red Cross (PRC) continues to uphold one of its missions as an advocate to halt the spread of HIV and AIDS by raising public awareness. And this resulted in a great number of individuals having already been educated about HIV and AIDS, as well as the process of how to get tested.
Moreover, The PRC fully supports the anti-stigma campaign and conducts programs and activities for its implementation around the organization's programs and services. As part of moving forward, the PRC foresees that aside from HIV/AIDS knowledge-dissemination campaign, the anti-discrimination and anti-stigma should also be given emphasis. This campaign will protect the rights and privileges of all PLHIVs.
The Movement already has initiated several activities that promote the Zero Discrimination Campaign on HIV/AIDS. Also, the PRC adopts the "Workplace Policy" in accordance with the National and International Law and Conferences that creates a chance for the PLHIV to work and live as usual in PRC environment.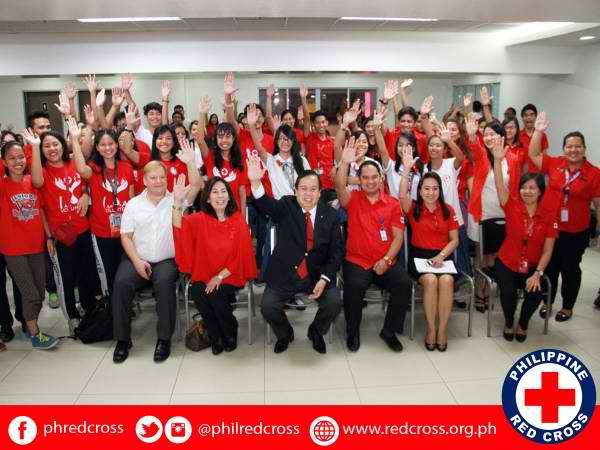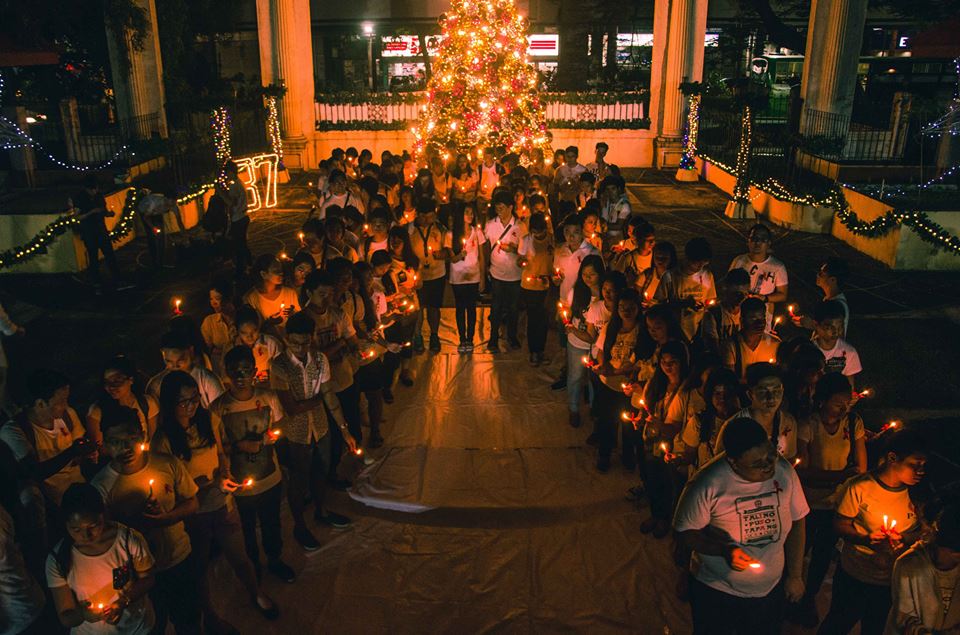 In celebration of World AIDS Day, the PRC initiates activities that aims to amplify national awareness and issues surrounding HIV/AIDS. A total of 171 participated during the HIV/AIDS symposium held at 2nd Floor of PRC tower. The symposium started with giving trivia about HIV/AIDS and World AIDS Day. It was then followed by the launching of "Workplace Policy" on HIV/AIDS and an audio-visual campaign-presentation was also shown. The resource speaker discussed the topics of HIV/AIDS within the community and PLHIVs' chances and challenges. A message from PRC Chairman Richard Gordon ended the symposium.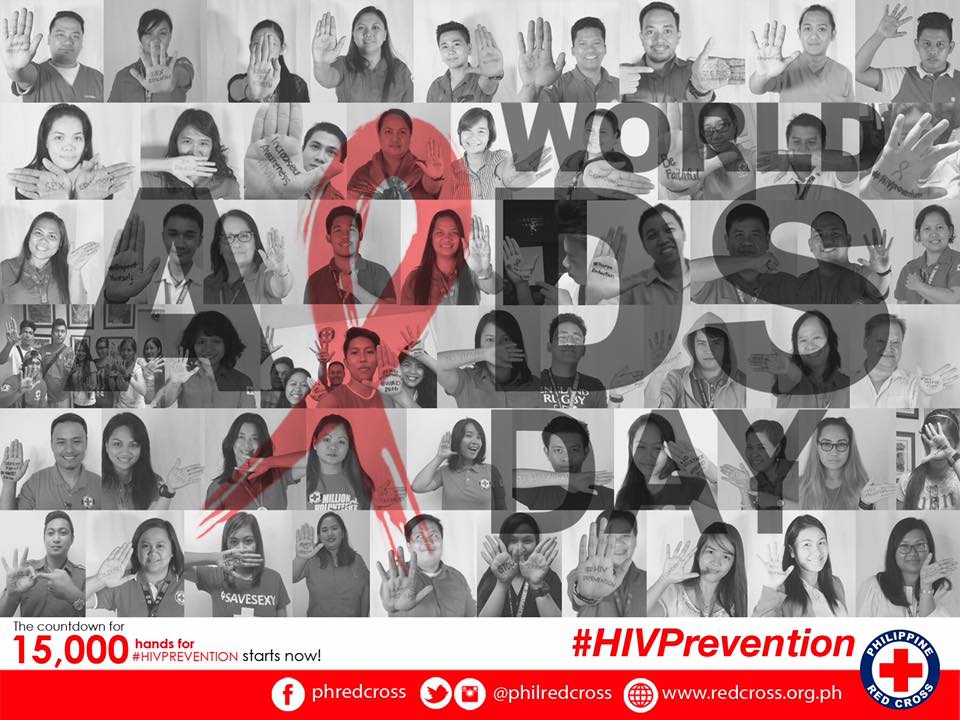 Starting end of November, PRC Chapters nationwide participated in the countdown for 15,000 Hands Up for #HIVprevention. The mechanism of the campaign was on their palms where they wrote their advocacy messages to show support to PLHIVs and to commemorate the people who have died because of HIV and AIDS. They rose their hands up and had their photographs taken, then posted them on their different social media accounts. Also, the Chapters conducted different initiatives in celebration of World AIDS Day such as candle lighting, human ribbon formation, information dissemination on HIV/AIDS, parade/walk, run for a cause, masquerade party, participation in different local HIV/AIDS sector activities.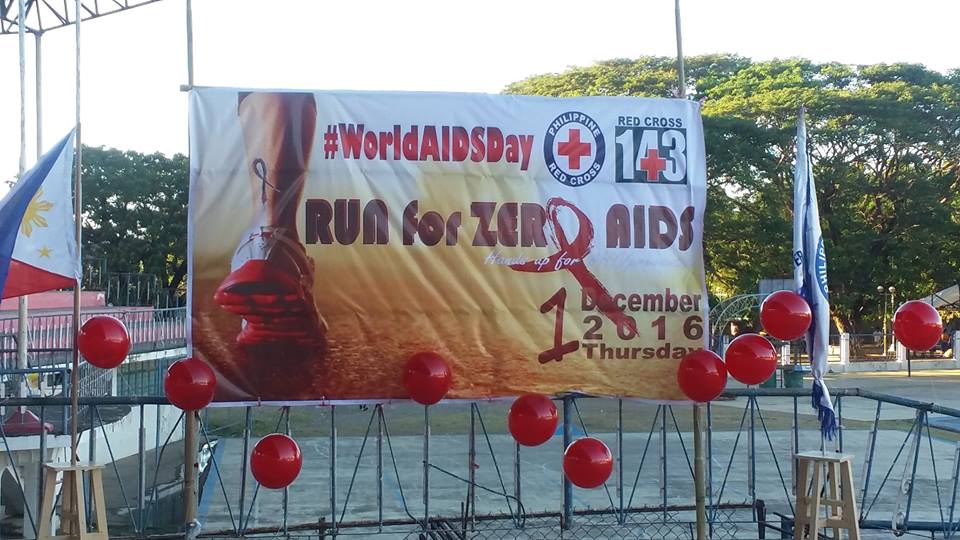 In this endeavour of the PRC, this battle is not only against the spread of HIV/AIDS, but as well as the issues surrounding it and community involvement is the best method to win it. The PRC will continuously mobilize the Red Cross' 143 volunteers to visit communities and disseminate information about HIV/AIDS, promote preventive measures, as well as distribute condoms to promote safe sex. Also, PRC will integrate counselling sessions for pre- and post-HIV/AIDS testing on its program. This mission will not only require putting our hands up for HIV prevention but standing up for what the humanity needs.

Featured Video
A video made for the occasion of World AIDS Day 2016 highlighting being against discrimination of HIV-infected people in workplaces.