Philippines Disaster Law Training for Philippine Red Cross Chapters | 20-22 September 2017 | Philippines
20 September , 2017 8:00 am

-

22 September , 2017 5:00 pm

UTC+7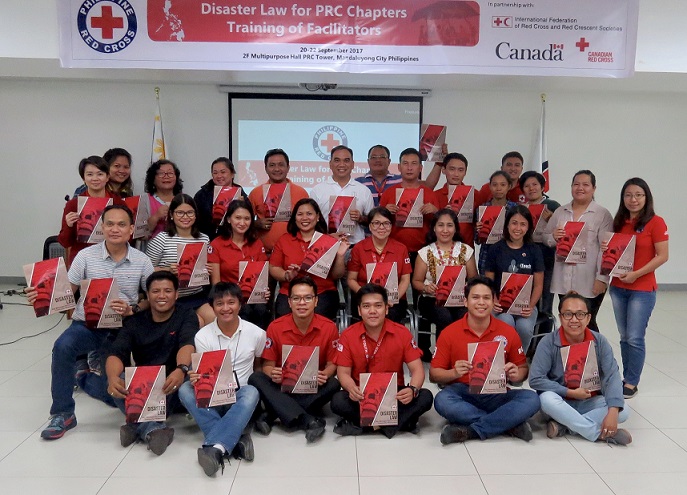 The Philippine Red Cross, in partnership with the IFRC, recently concluded a training of Chapter facilitators on disaster law in the Philippines. This was made possible through the Regional Resilience Initiative (RRI) funded by Global Affairs Canada through Canadian Red Cross.
Philippine Red Cross Chapter Administrators and technical staff coming from 20 Chapters across Luzon, Visayas and Mindanao were provided an orientation on disaster law basics and facilitation tools and skills to carry out the orientation.
Training participants were selected based on their knowledge of basic disaster risk management (DRM) concepts and principles, relevant experience in community-level work, and regular interaction with local government stakeholders and DRM institutions such as Local Disaster Risk Reduction and Management Councils (LDRRMC). The trainees are expected to be the first pool of local Chapter officers who will have the skills to facilitate local level disaster law trainings to communities in the future, so they are better equipped to exercise their rights, roles and responsibilities prior and during disasters.
Keeping communities at the center
The training not only touched on the basics of advocacy and humanitarian diplomacy, but also cross-cutting disaster law themes, and other successful advocacy strategies implemented at the local level.  During the training, information was shared by resource persons from IFRC as well as key departments of Philippines Red Cross, including Health Services, Welfare Services, and Disaster Management Services. The Office of Civil Defense, Department of Interior and Local Government, CARE Philippines (Partners for Resilience), and Ateneo de Manila University Development Studies Programme also shared insights with participants.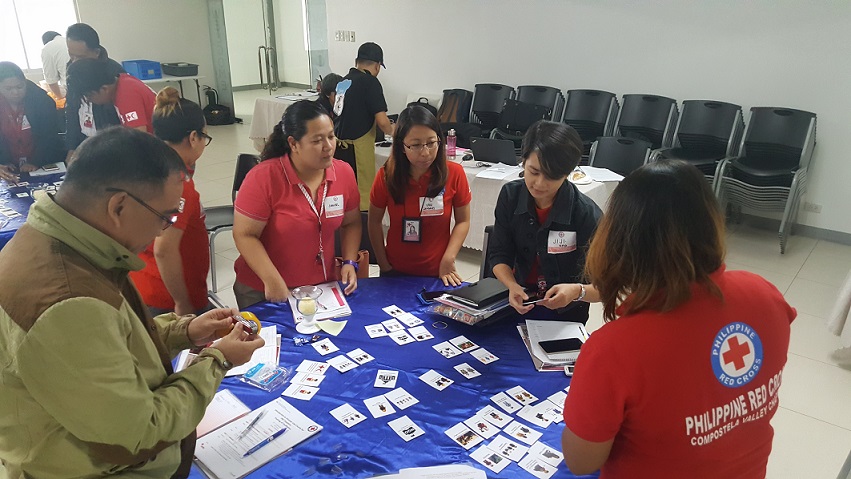 This approach forms part of a new approach to ensure disaster law is more accessible, known and understood at community level.  It focuses on 3Rs — rights, roles and responsibilities — in disaster risk management law. With their wide network of staff and community volunteers, Red Cross Chapters have the opportunity to carry out this work at the community level and, vice versa, to bring community voices in the decision-making table.
The first day focused on basic domestic legal and policy documents covering the four pillars of DRM — disaster prevention and mitigation, preparedness, response and recovery. It also included a discussion of cross-cutting themes in disaster law, such as the Dignity, Access, Participation and Safety (DAPS) Framework, gender and diversity, disability inclusion, special laws on the protection of women and children and disasters, and integrated risk management.  From these concept-based lectures, the training progressed towards local level DRM planning guidelines and basic advocacy skills, tools that will enable training participants to apply their knowledge in disaster law in influencing community-level DRM programmes and advocacies.
One of the highlights of the training was the interactive simulation of the "3Rs Lego Game", where participants used Lego picture cards to identify the respective rights, roles and responsibilities of stakeholders in a disaster response setting like Typhoon Haiyan. Another highlight was the "advocacy elevator pitch" exercise, an interactive session that allowed participants to role play as advocates and practice their skills at quick but effective advocacy messaging.
The dissemination of rights, roles and responsibilities under disaster law frameworks serves as an important highlight of Philippines Red Cross role as a leading actor of community-based driven advocacy and action nationally and in Southeast Asia.
The local level disaster law course is scheduled to be rolled out by the trained facilitators with assistance from PRC NHQ this October in their respective chapters. The recently published IEC (Information, Education, and Communication) brochure on Disaster Law Key Messages for Inclusive Community Participation, will also be used and distributed during the training.
See Report of the training, annex 1, annex 2 and annex 3.