In follow-up to the findings of the capacity assessment exercise, on 6-7 October IFRC Country Cluster Support Team (CCST) Bangkok organised a capacity building training for partner-implementing Civil Society Organisations (CSOs).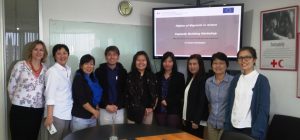 A two-fold objective of the training was to:
Enhance quality of financial planning, monitoring and reporting of IFRC-supported projects;
Promote better understanding and enhance compliance with IFRC procurement rules and procedures.
Delivered by the CCST personnel, the training module included theoretical sessions and practical exercises and covered a wide array of issues  such as human resources, project visibility, financial management, procurement and logistics rules and regulations.
Training documents:
For more information, visit Rights of Migrants in Action