Celebration of the World Blood Donor Day | Bangkok | 14 June 2017
14 June , 2017 8:00 am

-

5:00 pm

UTC+7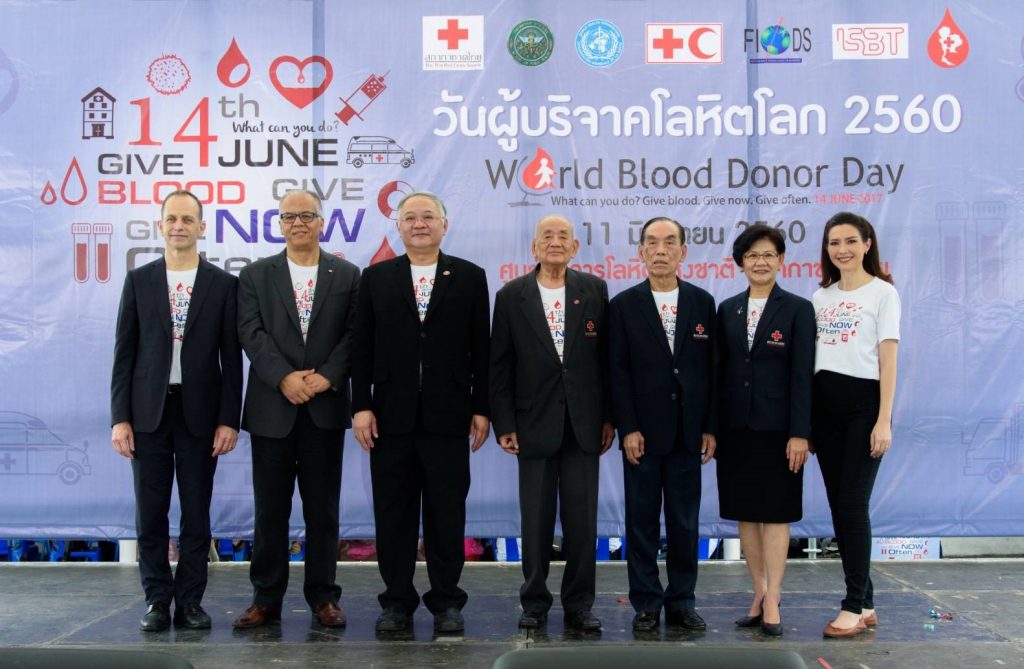 The National Blood Centre of Thai Red Cross organized the World Blood Donor Day on 11 June 2017 with the theme and campaign of "What can you do? Give Blood, Give now, Give often".
Globally, the IFRC plays a significant role in advocating and promoting regular voluntary non-remunerated blood donation (VNRBD) and Youth clubs which are also known as the International Club 25. Every year on 14 June, countries around the world celebrate World Blood Donor Day. The event, established in 2004, serves to raise awareness of the need for safe blood and blood products, and to thank blood donors for their voluntary, life-saving gifts of blood. This year, the global event will be organized in Hanoi Vietnam to celebrate the same theme.
The lives and health of millions of people are affected by emergencies every year. In the last decade, disasters have caused more than 1 million deaths, with more than 250 million people being affected by emergencies every year. Natural disasters such as earthquakes, floods and storms create considerable needs for emergency health care, while at the same time, often destroying vital health facilities as well. Man-made disasters such as road accidents and armed conflicts also generate substantial health care demands and the need for front-line treatment.
Blood transfusion is an essential component of emergency health care. Emergencies increase the demand for blood transfusion and make its delivery challenging and complex. Adequate supply of blood during emergencies requires a well-organized blood service, and this can only be ensured by engaging the entire community and a blood donor population committed to voluntary unpaid blood donation throughout the year.
This year, the Thai Red Cross plays a leadership role in giving a 8-bed mobile  service bus to Lao Red Cross to contribute to saving the lives of more 6.5 million people in Lao PDR. Thai Red Cross also committed and provided  technical support in increasing the capacity of National Blood Center of Lao Red Cross to develop the blood campaigns, communication materials, and  other blood service supply and equipment.
Additionally, Thai Red Cross Society and all key stakeholders are moving toward in promoting safe and sustainable blood programmes in Thailand for those in needed to save their lives. This is to make sure that Thai Red Cross could provide blood about 1,500-3,000 units a day  in average for the patients and the requests from all of the hospitals in Thailand .
For more information, contact: Miss Unchalee Pochailert , Communications Officer, National Blood Centre, Thai Red Cross, email: aunchaleeoil22@gmail.com and Dr. Pornsak Khortwong, IFRC Health Officer, email: pornsak.khortwong@ifrc.org