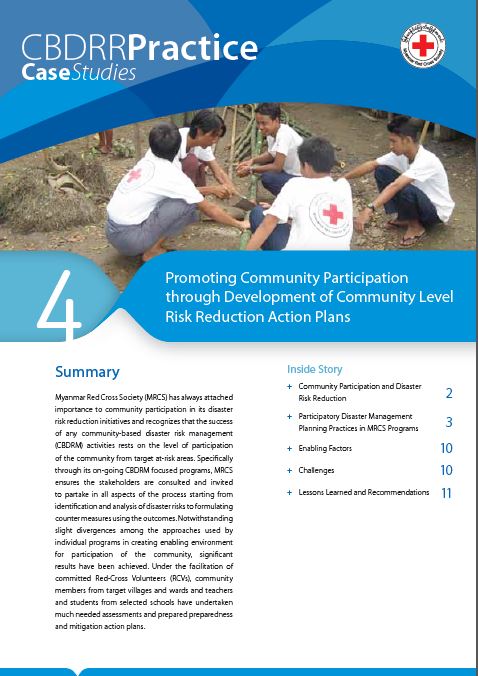 Purpose: The document is aimed to share Myanmar Red Cross Society's practices on Community Based Disaster Risk Reduction especially through promoting and enabling community participation, including community members from target villages and wards and teachers and students from selected schools, in risk reduction action plans.
Overview: The document outlines the link between community participation and disaster risk reduction and MRCS practices in its DRR programmes. Main contents include:
Community Participation and Disaster Risk Reduction

Participatory Disaster Management Planning Practices in MRCS Programs

Enabling Factors: five factors relating to MRCS structure, the role of MRCS Volunteer network and their local knowledge, willingness of communities.
Challenges: five challenges in terms of implementation time, community sketicism, youth and volunteering in community, gender promotion in partriarchal society like Myanmar.
Lessons Learned and Recommendations; seven lessons and recommendationso on coordination, community engagement, ways of implementation and volunteer activities.
Usage: Learning from experience
Audience: Technical staff, Volunteers
For Burmese version, click here Burmese, file size: 2 MB

Document Data
Publication date:
Status: Final Type: PDF Size (MB): Size: 1
Tagged in:
You might be interested in these resources:
Baseline and End-Line Studies as Means to Analyze the Effectiveness of Community-Based Disaster Risk Reduction Activities