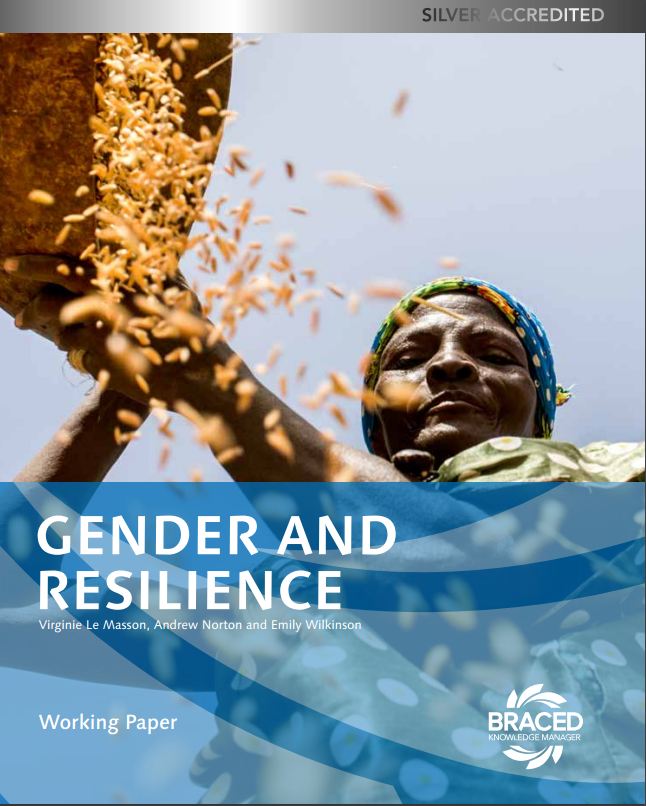 Purpose
This paper reviews different approaches to incorporating gender equality objectives into resilience projects and to monitoring gender equality outcomes. It uses a sample of project proposals from DFID's Building Resilience to Climate Extremes and Disasters programme (BRACED) and makes suggestions on ways to promote effective and consistent practice across the full range of projects.
The methodology is twofold, involving a systematic review of how gender resiliencies are considered in the literature on disaster risk reduction and climate change adaptation and an analysis of project planning materials for eight of the 15 NGO projects being supported by BRACED. The NGOs cover Mali, Senegal, Burkina Faso, Niger, Myanmar, Nepal, Kenya and Uganda.
Overview
A table showing the impact of climate change and disasters from a gendered perspective can be found on p.22.
Sections 3 and 4 provide a conceptualisation of gender and summarise the rationale why gender matters in programmes aimed at enhancing adaptation and resilience.
Section 5 discusses the influence of the geographical context on gender relations and people's resilience, focusing on the BRACED countries.
Section 6 provides an overview of how gender has been integrated into NGO practices aimed at helping communities to deal with climate extremes.
Section 7 takes the eight BRACED projects as case studies and presents the context and the approach to gender taken by each.
Usage: Learning from experience
Audiences: Technical staff, Gender and diversity practitioners
Reference: Le Masson, V., Norton, A. & Wilkinson, E. (August 2015). Gender and Resilience. Working Paper. Overseas Development Institute (pp. 1-76). Available from: http://www.odi.org/sites/odi.org.uk/files/odi-assets/publications-opinion-files/9890.pdf [Accessed: 23 December 2015].

Document Data
Publication date: August 1, 2015
Status: Final Type: PDF Size (MB): Size: 0.806
You might be interested in these resources: