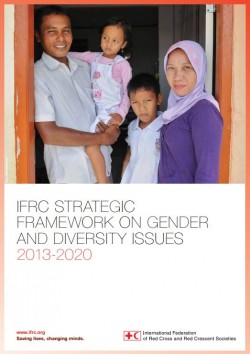 Purpose
The purpose of this document is to provide specific, strategic direction to the IFRC to ensure that its actions are non-discriminatory towards people of all ages, and to promote gender equality and respect for diversity throughout all of its work.
Overview
Three overall gender and diversity outcomes form the basis for operationalizing the IFRC Strategic Framework on Gender and Diversity Issues. They are further detailed in the operational guides for the IFRC Secretariat and for National Societies. The three outcomes are:
Systematic incorporation of gender and diversity in all programmes, services and tools (covering the full management cycle from assessment to planning, monitoring, evaluation and reporting);
Improved gender and diversity composition at all levels (governance, management, staff and volunteers);
Reduced gender- and diversity-based inequality, discrimination and violence through the active promotion of fundamental principles and humanitarian values.
Usage: Policy guidance
Audiences: Technical staff; Gender and diversity practitioners; National Society Leadership
See the document in Vietnamese language

Document Data
Publication date: January 1, 2013
Status: Final Type: PDF Size (MB): Size: 0.41
You might be interested in these resources: