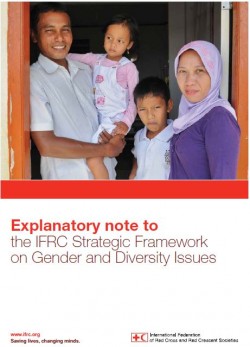 Purpose
This document looks at why gender and diversity is important to the IFRC framework and to the fundamental principles of the International Red Cross and Red Crescent Movement and Strategy 2020.
Overview
Gender and diversity are important to the IFRC's work, in order to:
reduce the human, economic and development impacts of gender inequality;
get better results from its humanitarian operations and development programmes;
contribute to achieving the aims of Strategy 2020.
IFRC's gender and diversity framework is centred on three outcomes:
incorporation of gender and diversity into programmes, services and tools;
improvement of gender and diversity composition at all organisational levels;
reduction of gender and diversity-based inequality, discrimination and violence through the active promotion of fundamental principles and humanitarian values.
Usage: Policy guidance
Audiences: National Society leadership; Technical staff

Document Data
Publication date:
Status: Final Type: PDF Size (MB): Size: 0.47
You might be interested in these resources: