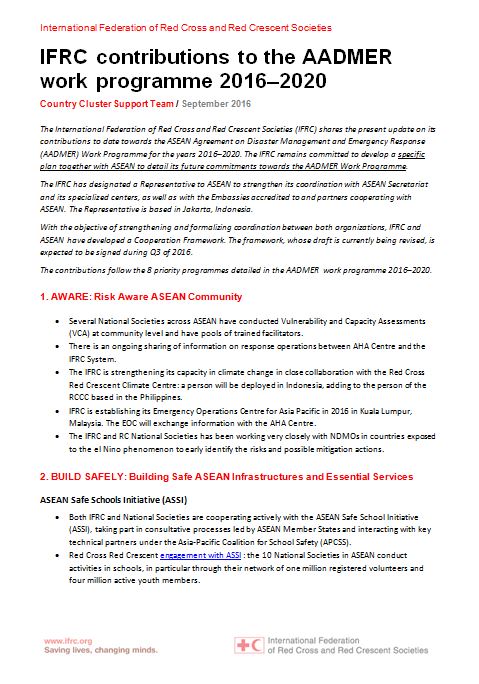 The International Federation of Red Cross and Red Crescent Societies (IFRC) shares the present update on its contributions to date towards the ASEAN Agreement on Disaster Management and Emergency Response (AADMER) Work Programme for the years 2016–2020. The IFRC remains committed to develop a specific plan together with ASEAN to detail its future commitments towards the AADMER Work Programme.
The IFRC has designated a Representative to ASEAN to strengthen its coordination with ASEAN Secretariat and its specialized centers, as well as with the Embassies accredited to and partners cooperating with ASEAN. The Representative is based in Jakarta, Indonesia.
The contributions follow the 8 priority programmes detailed in the AADMER  work programme 2016–2020.

Document Data
Publication date: September 1, 2016
Status: Final Type: PDF Size (MB): Size: 0.057
You might be interested in these resources:
Joint Action Plan for Technical Collaboration between Red Cross Red Crescent Societies and ASEAN Humanitarian Assistance (AHA) Centre