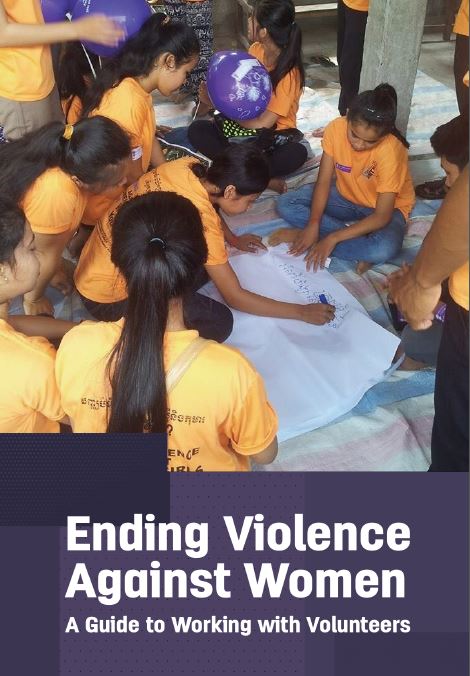 Purpose
The overall objective of this manual is to provide guidance to organisational staff that work with, or want to work with, volunteers to end violence against women/girls (EVAW/G).
The manual has been designed to equip organisational staff with knowledge and methods to enable them to develop their volunteer programmes, and is divided into five sections.
Overview
Community volunteers are essential for NGO programmes on GBV because they are the primary means of implementing these organisations' projects.
Volunteers allow NGOs to reach more remote areas, university campuses and other project areas.
Most volunteers face continuing challenges, such as lack of support from the community; lack of resources, experience, capacity, safety concerns; and working with the local authorities.
Volunteers require additional training, financial and transportation support, and safety and psychosocial support.
Volunteers, organisations and survivors of violence are generally satisfied with these programmes: volunteers enjoy the recognition, knowledge, experience and self-growth they gain; organisations appreciate the cost-effectiveness and ability to reach otherwise inaccessible communities; and survivors benefit from the volunteers' work in their communities.
Volunteers' understanding of gender and gender-based violence is quite limited. Stereotypical gender roles were widely reinforced by all stakeholders.
Usage: Guidance for project implementation, Training
Audiences: Gender and diversity practitioners; Technical staff
Reference: Rudge, V. (2015). Ending Violence against Women: A Guide to Working with Volunteers. Pp.3-75. Available from: http://www2.unwomen.org/~/media/field%20office%20eseasia/docs/publications/2015/03/un-w-volunteer-manual-revised2015.pdf?v=1&d=20150303T020056 [Accessed: 18th July 2016].

Document Data
Publication date:
Status: Final Type: PDF Size (MB): Size: 8
You might be interested in these resources: