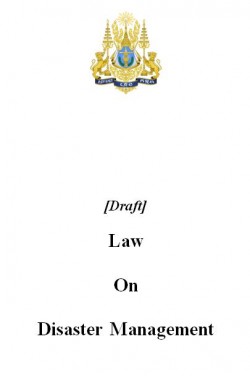 Purpose: The document is aimed to strengthen normative frameworks and address regulatory barriers concerning disaster mitigation, response and recovery in Cambodia. It is designed to support governments and key partners in Cambodia in the development and refinement of strong, comprehensive domestic legal frameworks for disaster risk management.
Overview: This document is the first draft of Cambodia's Disaster Management Law covering legal frameworks on disaster risk reduction and response. The final draft was successfully adopted to become law in July 2015. It legally integrates disaster risk reduction measures into development planning, and mandates Cambodia's National Committee for Disaster Management to issue guidelines on disaster risk reduction, climate change adaptation and international assistance and cooperation. Its main contents include 10 chapters:
Chapter 1: General Provisions
Chapter 2: Fundamental principles of disaster management
Chapter 3: Disaster Management Mechanisms: at National, Subnational and Commune Level
Chapter 4: Disaster Management Measures: Pre-disaster, During disaster  and Post disaster stages
Chapter 5: International cooperation and assistance
Chapter 6-7-8: Rights and obligations, Budget for disaster management, Legal Penalties
Chapter 9-10: Transitional and Final Provisions.
Usage: Policy development
Audience: National Society leadership, Technical staff, Communication staff

Document Data
Publication date:
Status: Final Type: Word Size (MB): Size: 0.15
Tagged in:
You might be interested in these resources: