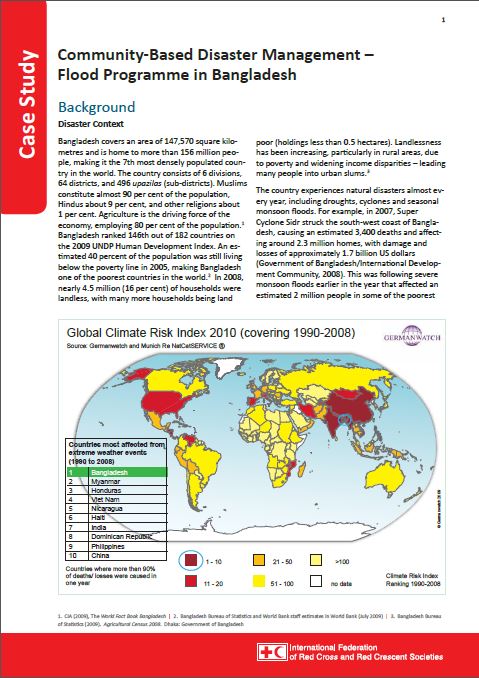 Purpose
This paper looks at the Community-Based Disaster Management Flood and Earthquake Preparedness and Response Programme (CBDM) implemented by the Bangladesh Red Crescent Society (BDRCS) in early 2005. The paper provides an overview of the programme, its outcomes, lessons learned from the programme and the way forward.
Overview
The CBDM programme aimed to reach 31,000 families from 80 communities in 10 flood-prone districts (Lalmonirhat, Kuirgram, Tangail, Sirajgonj, Jamalpur, Munshigonj, Chandpur, Faridpur, Madaripur and Shariatpur).
The goal of the programme was to reduce the vulnerability of people, particularly women, to disasters. It enhanced and sustained the capacity of high-risk communities to mitigate the impact of emergencies, particularly in flood and earthquake-prone areas of Bangladesh. The programme ensured that gender considerations were included at each stage, from design, assessments, implementation and monitoring and evaluation.
The programme contributed to the timely and effective response of the BDRCS to the floods in 2008. It also made women in participating communities more enthusiastic about becoming volunteers. The recruitment of equal numbers of male and female volunteers and the promotion of more women into leadership and decision-making roles made significant contributions to increasing women's access to the opportunities and benefits available through the CBDM programme, as well as ensuring their views and needs were incorporated into planning. Finally, the programme led to women becoming more financially solvent and more confident.
Usage: Learning from experience
Audiences: Technical staff

Document Data
Publication date:
Status: Final Type: PDF Size (MB): Size: 1
You might be interested in these resources: