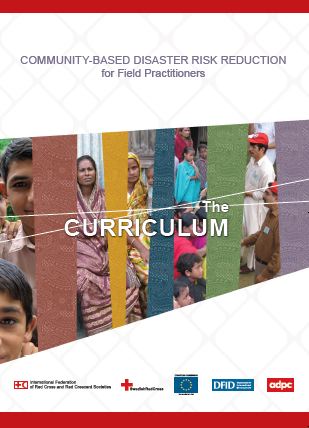 Purpose:
The series provide the DRR practitioners with practical guidance on how to plan and implement CBDRR programmes with a particular focus on training of CBDRR practitioners. 
The general objective of this training is that field practitioners will be able to apply the theories and practical tools used in Community-Based Disaster Risk Reduction to help in building safer and more resilient communities jointly with the population who are at risk to disasters.
This training material provides the first comprehensive attempt in South Asia to provide a standardised Disaster Risk Reduction training curriculum targeting field practitioners and community in order to improve the overall quality and impact of the Disaster Risk Reduction training programmes in South Asia undertaken by Red Cross and Red Crescent Society staff and volunteers working in disaster risk reduction.
Overview:
The curriculum discusses about:
Why community-based disaster risk reduction
Community-based disaster risk reduction and the IFRC
Course objectives, content, participant and schedule
Usage: Guidance for project implementation
Audience: National Society leadership, Technical staff, Volunteers
The CBDRR guides are available in series of:

Document Data
Publication date: April 20, 2009
Status: Final Type: PDF Size (MB): Size: 3
You might be interested in these resources:
The long road to resilience – impact and cost-benefit analysis of community-based disaster risk reduction in Bangladesh