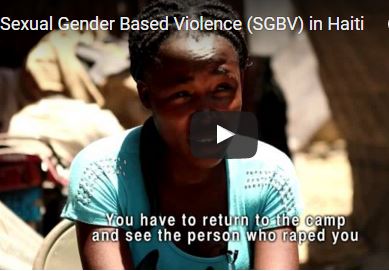 Purpose
This video looks at the dangers people, especially women and girls face in camps after the earthquake in Haiti.
Overview
Women in the camps are exposed to many dangers including rape. Few of these incidents are reported because women fear retaliations from their attackers.
The Commission of Women Victims for Victims (KOFAVIV) has partnered with UNHCR and is one of the few organisations in the camps that help victims of sexual violence. KOFAVIV provides health and legal services to these women.
Usage: Learning from experience, Training
Audiences: Technical staff; Gender and diversity practitioners; Volunteers
Reference: UNHCR (2011). Sexual Gender Based Violence (SGBV) in Haiti. Duration: 4.25 minutes [Online] Available from: https://www.youtube.com/watch?v=9ydpkGMxTKY [Accessed: 18th July 2016].

Document Data
Publication date:
Status: Final Type: Other Size (MB): Size: 23
Tagged in:
You might be interested in these resources: