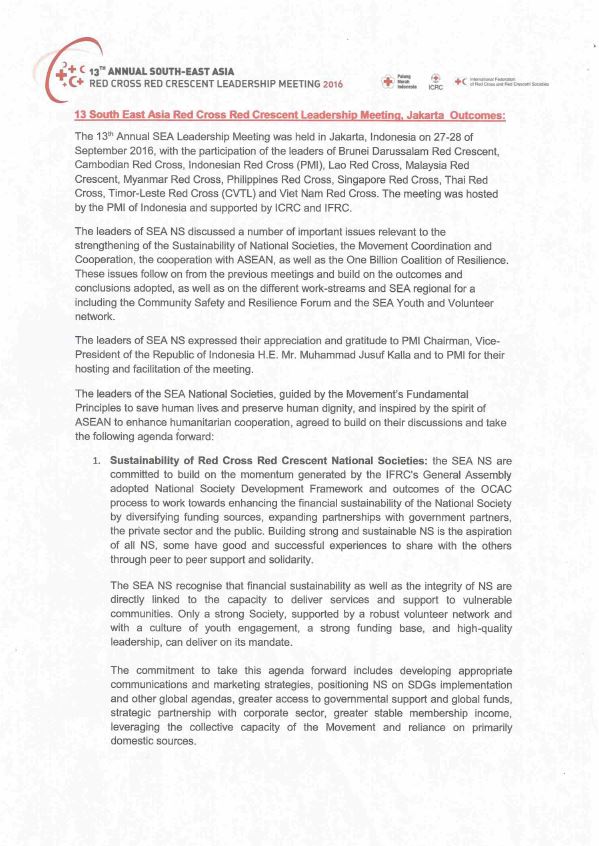 Purpose and overview:
The outcome document resulted from the 13th Southeast Asia Red Cross Red Crescent Leadership meeting that was held in Jakarta, Indonesia, on 27-28 September 2016, with the participation of the leaders of the National Societies of Brunei Darussalam, Cambodia, Indonesia, Lao, Malaysia, Myanmar, Philippines, Singapore, Thailand, Timor-Leste and Viet Nam. The meeting was hosted by PMI of Indonesia ans supported by ICRC and IFRC.
The meeting saw the discussions of issues relevant to strengthening of the sustainability of National Societies, the Movement coordination and cooperation, the cooperation with ASEAN, as well as the One Billion Coalition for Resilience.
Usage: Policy reference
Audience: National Society leaders and staff

Document Data
Author:
Brunei Darussalam Red Crescent Society
,
Cambodian Red Cross
,
ICRC
,
IFRC
,
Indonesian Red Cross (PMI)
,
Lao Red Cross
,
Malaysia Red Crescent Society
,
Myanmar Red Cross Society
,
Philippine Red Cross
,
Singapore Red Cross Society
,
Thai Red Cross Society
,
Timor-Leste Red Cross
,
Viet Nam Red Cross Society
Publication date: October 10, 2016
Status: Final Type: PDF Size (MB): Size: 0.83
Country:
Brunei
,
Cambodia
,
Indonesia
,
Lao
,
Malaysia
,
Myanmar
,
Philippines
,
Regional
,
Singapore
,
Thailand
,
Timor Leste
,
Vietnam
You might be interested in these resources: