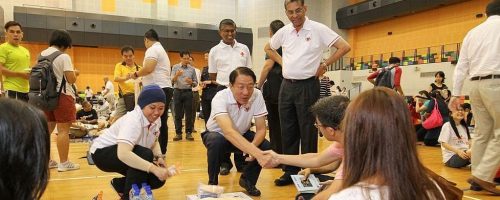 SINGAPORE RED CROSS SOCIETY
The work of the Red Cross in Singapore began in 1949 as a branch of the British Red Cross. Today, the Singapore Red Cross dedicates itself to protecting human life and dignity, relieving human suffering and responding to emergencies. Its. blood donor mobilisation programme, home for the disabled, transport aid, food aid, elder aid, community first aid and training derive from its mission to serve the vulnerable.
Among the ongoing priorities is to help the vulnerable community members who have fallen through the cracks of social service – the elderly, the disabled, the single-parent families and the working poor. Internationally, the SRC mobilises and translates contributions from Singaporeans to relief and recovery, rehabilitation and reconstruction efforts, with the aim of helping the communities devastated by disasters.
Singapore Red Cross Society
15 Penang Lane, Singapore 238486
17 November , 2014 8:00 am

-

20 November , 2014 5:00 pm

UTC+7

24 March , 2014 8:00 am

-

26 March , 2014 5:00 pm

UTC+7
Document library - Singapore