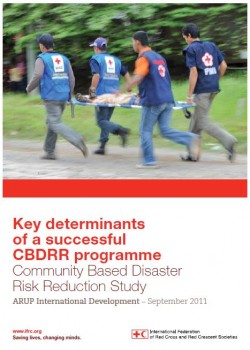 Purpose: The International Federation of the Red Cross (IFRC) is committed to building safety and resilience through its Community Based Disaster Risk Reduction (CBDRR) programmes. However, defining the aims and objectives of such programmes and the critical factors that influence their impact remains a challenge. This research report has been prepared by Arup's International Development team on behalf of the IFRC in order to identify key determinants of a successful CBDRR programme; including identification of the most effective interventions and services (also in terms of sustainability) in the context of these key determinants', which will be used in the design, monitoring and evaluation of future programmes.
Overview: The report indentifies nine key determinants of a successful CBDRR programme, which are classified into three categories: stakeholders, programme design, programme management. It also suggests seven recommendations to enhance the CBDRR efforts. The report is structured as followed:
Introduction
Research Methodology
Findings form literature review and fieldwork
Analysis
Conclusion and recommendations.
Usage: Learning from experience
Audience: National Society leadership, Technical staff

Document Data
Publication date: September 1, 2011
Status: Final Type: PDF Size (MB): Size: 2
You might be interested in these resources:
Characteristics of a Safe and Resilient Community – CBDRR Study, ARUP International Development 2011