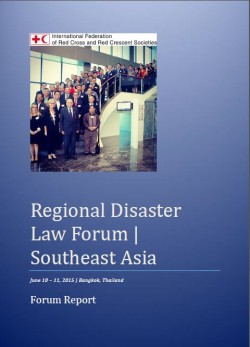 Purpose:
The report detailed the result of Regional Disaster Law Forum for Southeast Asia was held on 10 – 11 June, 2015, in Bangkok, Thailand.
The Forum brought together more than sixty representatives from Red Cross Red Crescent National Societies, national disaster management organizations (NDMOs), ministries of foreign affairs, parliamentarians, non-government organizations (NGOs), the United Nations (UN), the ASEAN Secretariat, the European Commission's Humanitarian Aid and Civil Protection Department (ECHO), and the International Federation of Red Cross and Red Crescent Societies (IFRC).
The Forum provided participants with the opportunity to share experiences and exchange views on disaster law developments in their countries.
Overview: Recommendations / outcomes are made for each level: national, regional and international level.
Usage: Policy development
Audience: National Society Leadership, Technical staff, Communication staff
See the related event: Regional Disaster Law Forum Southeast Asia

Document Data
Publication date:
Status: Final Type: PDF Size (MB): Size: 0.82
You might be interested in these resources: