Community Engagement and Accountability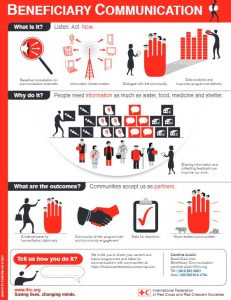 Community engagement, formerly known within the Red Cross Red Crescent as 'beneficiary communication', is about giving people a voice and empowering them to participate in their own recovery while also using the feedback from communities to improve humanitarian programming. Community engagement is a mix of both new and old technologies, from face-to-face communications and town hall meetings, to crowd mapping (as shown below) and SMS messaging.
Community Engagement and Accountibility (CEA)
Improving communication, engagement and accountability in all we do.
A joint effort of the IFRC and ICRC, launched at the end of January 2017. The guide and associated toolkit are now available on www.ifrc.org/CEA.
The development of the guide stems from the Movement's commitment to a people-centred approach. It is based on the need to adopt the most appropriate communication and participatory approach to engage with and listen to communities' needs, feedbacks and complaints, ensuring they have a voice in determining their own needs and designing their own solutions.
By listening to people in need, we can gain a deeper understanding of those communities we work with, engage with their capacities and expertise in a meaningful way, and ultimately contribute to improved accountability and building of long-term resilience.
This guide does not present a new activity, but rather adds value to what we are already doing by offering practical advice and support to improve how we communicate with, engage with and are accountable to people in need. It is written for Red Cross and Red Crescent staff and provides advice and support to build CEA in a more systematic, predictable and evidence-based way within the management cycle.
Click here to learn more: www.ifrc.org/cea
Audiovisuals on Community Engagement