Association of Southeast Asian Nations (ASEAN) was established in 1967 by 10 countries, namely: Brunei Darussalam, Cambodia, Indonesia, Lao PDR, Malaysia, Myanmar, Philippines, Singapore, Thailand, and Viet Nam. The regional cooperative organization has three pillars: ASEAN Political-Security Community, ASEAN Economic Community and the ASEAN Socio-Cultural Community. For more information on ASEAN, visit the ASEAN official website.
The ASEAN Socio-Cultural Community is responsible for building disaster-resilient nations and safer communities within the region under the ASEAN Committee on Disaster Management (ACDM) sub-committee and comprised of national-level Disaster Management Agencies. ACDM is mandated "To enhance regional cooperation in all aspects of disaster management including prevention, mitigation, preparedness, response and recovery through mutual assistance activities in order to minimize the adverse consequences of disasters on the economic and social development of Member states
The ASEAN Agreement on Disaster Management and Emergency Response (AADMER), adopted in 2005, is a regional multi-hazard and policy framework for cooperation, coordination, technical assistance and resource mobilization in all aspects of disaster management in the 10 ASEAN Member States.
The objective of AADMER is to provide an effective mechanism to achieve substantial reduction of disaster losses in lives and in social, economic and environmental assets, and to jointly respond to humanitarian emergencies through concerted national efforts and intensified regional and international cooperation.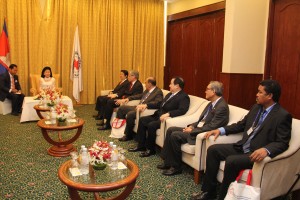 IFRC and Cartier Charitable Foundation
IFRC and The Mekong Tripartite Agreement
Resources on IFRC's partnerships
Document library - IFRC's partnerships