Community Engagement and Accountability training | 18-21 May | Bangkok
18 May , 2017 8:00 am

-

21 May , 2017 5:00 pm

UTC+7
First Community Engagement and Accountability training organized in Asia Pacific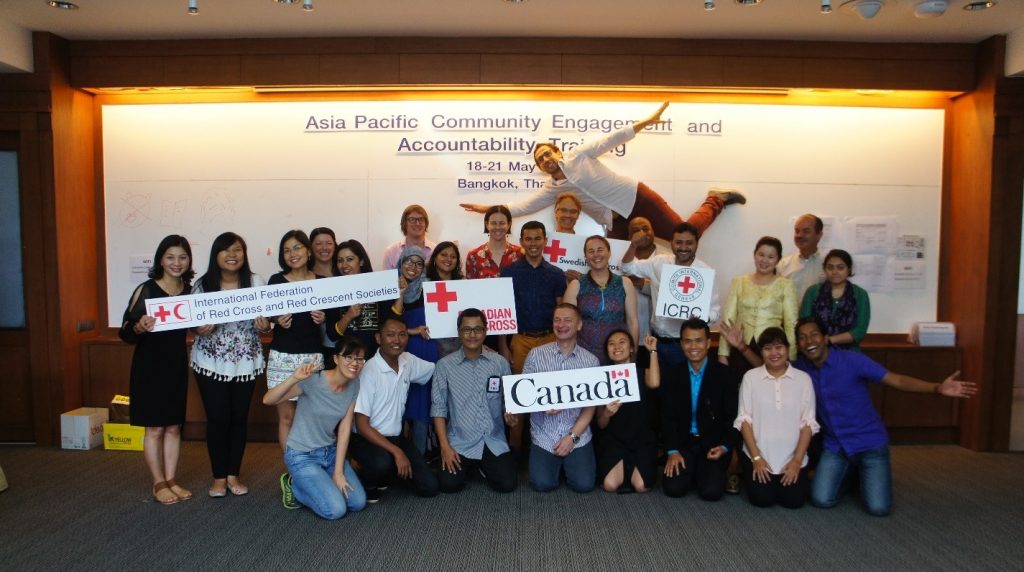 Between 18 and 21 May 2017, the IFRC and ICRC jointly organized the first Community Engagement and Accountability (CEA) training in Asia Pacific for National Society, partner National Societies IFRC and ICRC staff in the region. This was the first training to utilize the pilot CEA guide which was finalized in February 2017, CEA toolkit and training package.
Over the course of the four intensive days, participants familiarized themselves with the theory and the practice of how to integrate CEA within the Red Cross and Red Crescent programme cycle during emergency operations, longer-term protracted crisis, both in contexts of natural disasters and armed conflict, as well as development programs.
Following the training, some participants also attended the global forum by the Communicating with Disaster Affected Communities network. The event was attended by over 100 representatives from NGOs and iNGOs, government, donor and the private sector.
Resources from the training:
National Society's CEA work:
For more information on the CEA training, please visit the training website: https://media.ifrc.org/ifrc/meetings-and-events/cea-meeting/
Please visit the following link to read the CDAC Policy Paper on Collective Models: http://www.cdacnetwork.org/tools-and-resources/i/20170531072915-3fs0r
The participants of the Red Cross and Red Crescent CEA Facebook Group are encouraged to continue the knowledge exchange through: https://www.facebook.com/groups/587239731349669/