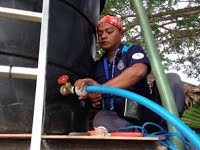 The ASEAN Regional Forum Disaster Relief Exercise (ARF DiREx) was held in Manado, Indonesia, on 15-19 March 2011. The ARF DiREx was co-chaired by Indonesia and Japan. The representatives of the ASEAN Coordinating Centre for Humanitarian Assistance on disaster management (AHA Centre), United Nations Office for Coordination of Humanitarian Affairs (UNOCHA), United Nations Children Emergency Funds (UNICEF), the World Food Programme (WFP), the World Health Organization (WHO), the International Federation of Red Cross (IFRC) and ASEAN Secretariat were also present. Total number of participants was 4,334.
Three main activities were conducted during the ARF DiREx:
Table Top Exercise (TTX),
Field Training Exercise (FTX),
Humanitarian Civic Action (HCA).
The TTX was based on a hypothetical scenario of earthquake followed by tsunami which hit the area of Wori District, North Sulawesi. The participants of the TTX were guided by a set of questions that were structured in four exercise moves, namely:
initial response,
disaster plus 2-4 days,
disaster plus 5-7 days and
disaster plus 2-4 weeks.
FTX consisted of an Urban Search and Rescue (USAR), Land Operations, Maritime Operations, Air Operations.