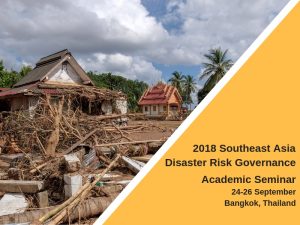 The 2018 Southeast Asia Disaster Risk Governance Academic Seminar is organized jointly by the ASEAN Committee for Disaster Management (ACDM), International Federation of Red Cross and Red Crescent Societies (IFRC), the Faculty of Political Science, and Thammasat University in Thailand. The 2.5-day event will take place during 24-26 September 2018 at Thammasat University's Tha Prachan campus in Bangkok.
The primary focus of the seminar will be to review and provide comments, by the Peer Review Committee members, on the submitted academic papers under the theme "Effective legal frameworks for inclusive and climate smart disaster risk governance." The Peer Review Committee members consists of academicians from institutions in Southeast Asia as well as practitioners in the field of disaster management. The seminar also aims to:
Provide a platform for different DRM actors and academic institutions in ASEAN to share their academic and policy research among their peers;
Increase the body of academic work on climate smart DRM laws in ASEAN to strengthen the credibility of the thematic area within the region and provide credible resources for policymakers working on DRM laws and regulations;
Enhance the engagement of academic institutions in ASEAN on climate smart DRM law and policy; and
Consider concrete recommendations and next steps to build on this peer learning platform.
Visit the official page of the seminar here for more information.