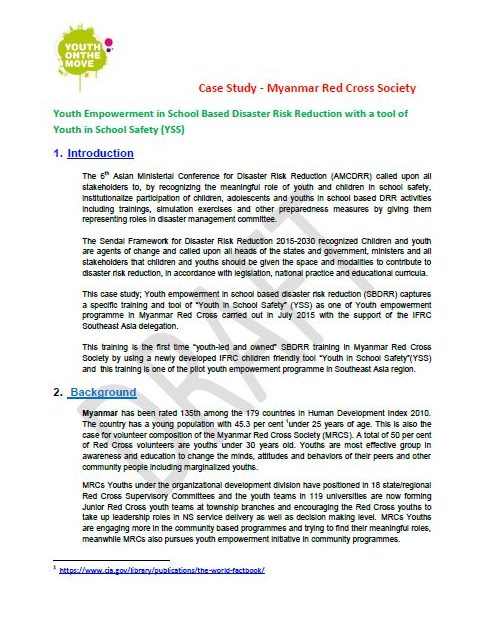 Purpose: The Sendai Framework for Disaster Risk Reduction 2015-2030 recognized Children and youth are agents of change and called upon all heads of the states and government, ministers and all stakeholders that children and youths should be given the space and modalities to contribute to disaster risk reduction, in accordance with legislation, national practice and educational curricula. This case study; Youth empowerment in school based disaster risk reduction (SBDRR) captures a specific training and tool of "Youth in School Safety" (YSS) as one of Youth empowerment programme in Myanmar Red Cross carried out in July 2015 with the support of the IFRC Southeast Asia delegation. This training is the first time "youth-led and owned" SBDRR training in Myanmar Red Cross Society by using a newly developed IFRC children friendly tool "Youth in School Safety"(YSS) and  this training is one of the pilot youth empowerment programme in Southeast Asia region.
 Overview: The 6th Asian Ministerial Conference for Disaster Risk Reduction (AMCDRR) called upon all stakeholders to, by recognizing the meaningful role of youth and children in school safety, institutionalize participation of children, adolescents and youths in school based DRR activities including trainings, simulation exercises and other preparedness measures by giving them representing roles in disaster management committee.
Usage: Learning from experience.
Audience: Technical staff, Volunteers, Youth.

Document Data
Publication date:
Status: Final Type: Word Size (MB): Size: 0.038
You might be interested in these resources: