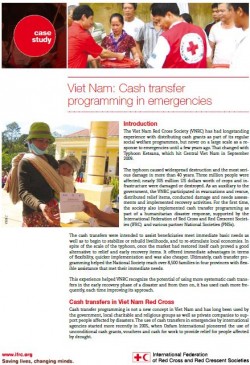 Purpose:
The 4-page case study provides experience sharing of good practices and lessons learnt from practical implementation of National Societies for cash transfer programming in emergencies, by taking the lessons from the emergency operations from Typhoon Ketsana which hit Viet Nam in September 2009.
Overview:
The lessons learnt in cash transfers include:
Cash transfers should not be implemented too early or too late after a disaster (ideally within one month).
Targeting beneficiaries with people's participation ensures ownership, transparency and relevance.
The implementing agency must have suitable technical capacity to ensure the programmes effectiveness and efficiency.
The commitment of local authorities in implementing cash transfer programming is crucial to ensure success.
Awareness raising and information sharing are essential to raise public understanding of cash transfer programming.
Monitoring and evaluation plays a crucial role to avoid redistribution and improve future cash transfers.
Usage: Learning from experience
Audience: Technical staff, Volunteers
See also: A more comprehensive version of the case study: Cash Transfer Programming in emergencies: A success story from the Viet Nam Red Cross

Document Data
Publication date:
Status: Final Type: PDF Size (MB): Size: 0.68
You might be interested in these resources: