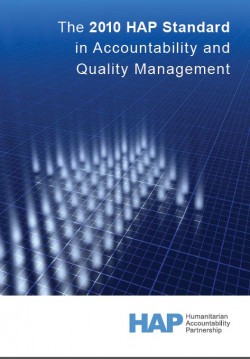 Purpose:
The Humanitarian Accountability Partnership (HAP) Standard helps organisations that assist or act on behalf of people affected by, or prone to, disasters, conflict, poverty or other crises, to design, implement, assess, improve and recognise accountable programmes. It describes how to establish a commitment to accountability and the processes that will deliver good quality programmes for the people who experience them first hand.
Overview:
There are six benchmarks in the HAP Standard (pp. 10-24). Each has related requirements. The first requirement of each benchmark covers organisational policy or corporate statements, and subsequent requirements cover an organisation's practice. The benchmarks are: establishing and delivering on commitments; staff competency; sharing information; participation; handling complaints; and learning and continual improvement.
The HAP principles of accountability are (p.25): commitment to humanitarian standards and rights; setting standards and building capacity; communication; participation in programmes; monitoring and reporting on compliance; addressing complaints; implementing partners.
Usage: Guidance for project implementation; Training
Audiences: Gender and diversity practitioners; Technical staff
Reference: HAP International (2013). The 2010 HAP Standard in Accountability and Quality Management. Pp 1-60. Available from: www.alnap.org/pool/files/2010-hap-standard-in-accountability.pdf [Accessed: 21st September 2016]

Document Data
Publication date: January 1, 2010
Status: Final Type: PDF Size (MB): Size: 0.78
You might be interested in these resources: