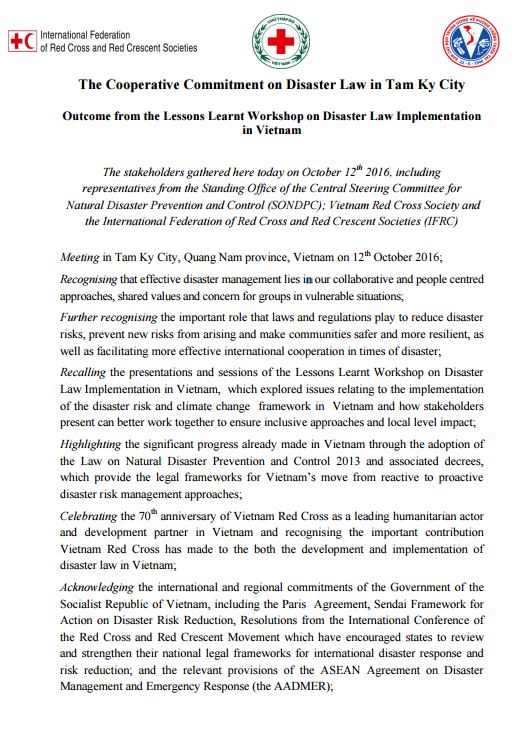 Purpose:
The Tam Ky Compact is a cooperative commitment on disaster law in adopted in Tam Ky City, on 12 October 2o16, among representative from the Standing office of the Central Steering Committee for Natural  Disaster Prevention and Control,  Vietnam Red Cross Society and the International Federation of Red Cross and Red Crescent Societies (IFRC).
The Tam Ky Cooperative Commitment was the outcome from the Lessons Learnt Workshop on Disaster Law Implamentation in Viet Nam.
Overview:
The parties collectively agree to undertake the following actions:
Work together on the dissemination, implementation and understanding of existing laws and procedures, including but not limited to, the Law on Natural Disaster Prevention and Control 2013 and associated decrees, particularly in the most disaster affected provinces/cities and districts;
Utilize the platform provided by Vietnam Red Cross, as auxiliary to the Government with its extensive network of branches and volunteers to support the disaster law dissemination and implementation activities;
Collaborate under the One Billion Coalition Framework on building the community resilience by developing a material set of guidance and implementation for pilot models on criteria "ensure the proactive conditions on disaster prevention and climate change adaptation" in the National Target Program on Building New Rural in Vietnam;
Work together to develop a handbook for disaster management practitioners and communities in Vietnam, which will include information on the key provisions of the Law on Natural Disaster Prevention and Control 2013 and associated decrees, as well as key provisions of international and regional standards and guiding principles for the Red Cross Movement.
Usage: Policy reference
Audience: National Society leaders and Disaster Law practitioners
See also: Officially signed version of Tam Ky Compact

Document Data
Publication date: October 12, 2016
Status: Final Type: PDF Size (MB): Size: 0.29
You might be interested in these resources: