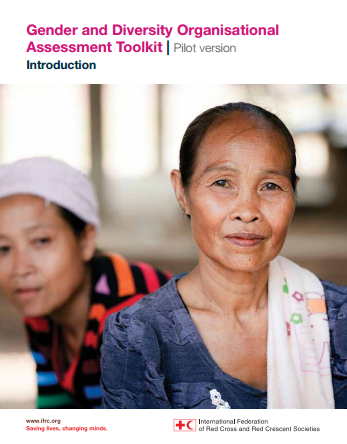 Purpose:
Developed by the global gender and diversity network, the Gender and Diversity Organisational Assessment Toolkit is the first IFRC tool that focuses on gender and diversity in organisational development (OD), to support National Societies to fulfill their commitments to gender and diversity sensitivity and equity.
The purpose of this tool is to provide a standard method of conducting an organisational assessment on gender and diversity, focusing on five key thematic areas: political will and leadership, organizational culture, resources and capacities, programme delivery and implementation, and accountability. The assessment can be completed as a standalone process, or as complementary to the Organisational Capacity Assessment and Certification (OCAC) or Branch Organisational Capacity Assessment (BOCA). The findings of the assessment can form the basis of recommendations on how to strengthen gender and diversity in all areas of the organisation.
Overview:
This toolkit is the result of valuable contributions and feedback from National Societies and IFRC colleagues in Asia Pacific and global networks.
The toolkit can be downloaded at the following ifrc.org links (organized in 4 documents):
1) Introduction to the toolkit
2) Conducting the analysis (Includes preparations and approval for assessment; how to conduct the assessment; gathering information; and analyzing and interpreting findings)
3) Recommendations and Plan of Action (Includes Annexes with all key templates and links to further resources)
4) The Assessment Tool
Usage: Guidance for implementation
Audience: National Society staff and volunteers

Document Data
Publication date:
Status: Final Type: PDF Size (MB):
You might be interested in these resources: