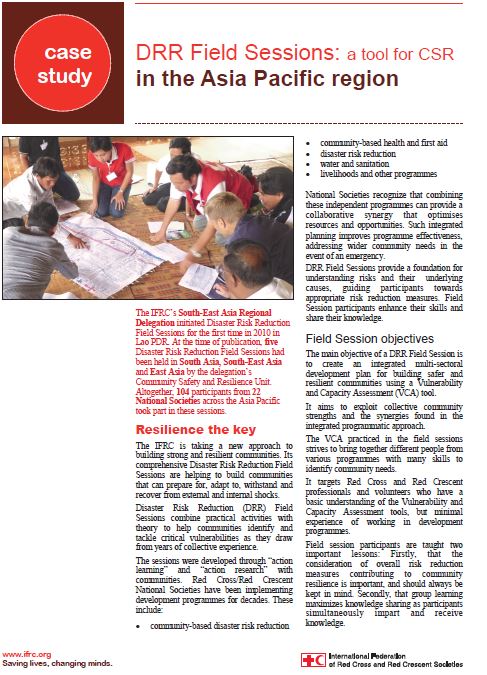 Purpose:
To give an overview of DRR Field Session implementation in Asia Pacific.
Overview: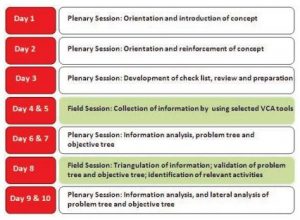 A DRR Field Session takes place over 10 days. Participants spend 3 days in the field and 7 days in the classroom. The entire process promotes peer learning and enhances the development of skills based on logic and reality. There are 2 scenarios in every field session: a case study and a real-life situation. The field session places participants directly in contact with a community that needs assistance.
The first DRR Field Session was held in Laos in 2010, in the following three years, the regional delegation's Community Safety and Resilience Unit held a total of 6 field sessions throughout South Asia, South-East Asia and East Asia for 148 participants from 9 communities (4 urban and 5 rural) from 20 National Societies.
Field session participants are trained on two important lessons:
Firstly, that the consideration of overall risk reduction measures contributing to community resilience is important, and should always be kept in mind.
Secondly, that group learning maximizes knowledge sharing as participants simultaneously impart and receive knowledge
Usage: Training, Guidance for project implementation
Audience: Technical staff, Communication staff, Volunteers
For Disaster Risk Reduciton Field Sessions in South-East Asia, click here Field sessions SEA size 4 MB

Document Data
Publication date:
Status: Final Type: PDF Size (MB): Size: 4
You might be interested in these resources: