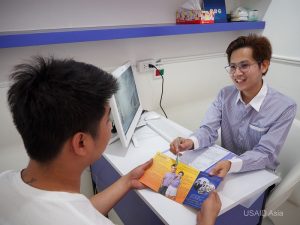 On 30 March 2018, health officials and a local community-based organization opened the first clinic where services designed for men who have sex with men, transgender women and female sex workers will be made available in Thailand's northern Chiang Rai Province.
The clinic, which expands the availability of HIV prevention, testing and treatment services for high-risk individuals, is operated by the Mplus Foundation, a community-based organization. It is funded by the Royal Thai Government in partnership with the United States President's Emergency Plan for AIDS Relief (PEPFAR) through the United States Agency for International Development (USAID) LINKAGES Project, implemented by FHI 360. The Thai Red Cross has rendered its support in building capacity of the personnel of the clinic at all levels, as well as technical support for its strategic planning.
At the launch ceremony, the Chiang Rai National Health Security Office, Chiang Rai Provincial Health Office, and Mplus signed a memorandum of understanding to formalize their commitment to work together to support community-led HIV/AIDS management. Under this partnership, the Royal Thai Government is providing funds under a new cost-sharing model. The National Health Security Office (NHSO) is initially allocating 14 percent, or 980,000 Baht, for these community-based HIV services. Currently, PEPFAR/USAID provides approximately 86 percent, or 6,000,000 Baht for the services in this province.
"This new partnership is a key milestone demonstrating Thailand's commitment to financing a community response to HIV," said U.S. Ambassador to Thailand, Glyn Davies. "This year, as the United States and Thailand celebrate 200 years of friendship, we are proud of our three generations of public health cooperation with the Kingdom, and pleased to work with national health officials and communities to take, together, the final steps toward ending AIDS."
Nearly 90 percent of Thailand's HIV response is domestically funded. The clinic opening in Chaing Rai marks an important step forward of the Royal Thai Government's effort to ensure sustainable funding for HIV prevention, testing and treatment services delivered by and for those at high risk of HIV infection.
Mplus provides access to high-quality and friendly HIV services, provides rapid HIV testing as well as HIV pre-exposure prophylaxis (PrEP) — a combination of HIV drugs which, if taken daily, can substantially reduce the risk of HIV infection. Clients who test HIV-positive will be provided assistance to start treatment in a timely manner. Part of the cost of services provided by the community health center will be reimbursed by the Royal Thai Government on a per-client-served basis. Mplus Chiang Rai will also receive a small grant from Chiang Rai Hospital to implement HIV activities.
The HIV  epidemic in Thailand has declined dramatically over the past two decades as a result of successful HIV prevention programs implemented by the Royal Thai Government in partnership with local communities and with the support from PEPFAR, which this year is marking 15 years of support in bringing together governments and communities to end HIV.  The combination of HIV prevention, early detection and access to antiretroviral treatment is essential to reduce HIV transmission. "The new Mplus clinic is a great example of the government-supported and co-financed Key Population-led Health Services Model for ensuring access to HIV services for all citizens," said Dr. Praphan Phanuphak, director of the Thai Red Cross AIDS Research Centre. "We believe this model can be replicated across Thailand as well as in other countries."
Story provided by Thai Red Cross Society
Download photos of the event here: https://flic.kr/s/aHsm8ZumwN
For more information, contact:
USAID: Richard Nyberg, rnyberg@usaid.gov or Wiraporn Srisuwanwattana, srisuwanwattana@usaid.gov Mplus: Pongthorn Chanlearn, mplus.foundation@gmail.com
USAID LINKAGES Program, FHI360: May Teeratrakoonchai, MTeeratrakoonchai@fhi360.org