Lao Red Cross Headquarter, Vientiane, Lao PDR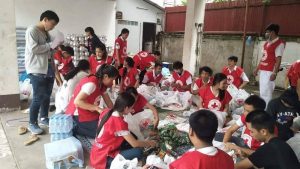 "Nam Hon, Nam Hon means 'hot water, hot water' in Lao," said Phoungern when he tried to start a conversation while loading packets of drinking water onto a pick-up truck at the Lao Red Cross (LRC) Headquarter. The truck would later head to Attapeu Province where people affected by the collapse of Xe-Pian Xe-Namnoy hydropower dams awaited assistance.
It had been almost ten days since the flash flooding took place as a result of a dam burst that inundated eight villages of the Sanamxay District, affecting many thousands of people and leaving at least 7,500 people homeless. More than 200 LRC volunteers have approached LRC to offer their help. As of today, 2 August, almost two thousand relief bags, consisting of clothes, canned food, and hygiene items, have been put together by these volunteers, and shipped to affected people in Sanamxay. Phoungern is one among the 200 volunteers who has spent at least two dozens of hours screening, packing, and sending their "love and heartfelt support" to those in Sanamxay. When asked about his motivation to volunteer, Phoungern said that it has been a dream come true for him ever since he became LRC volunteer in 2017 and took part in conducting the Youth in School Safety (YSS) activities in his high school on the outskirts of Vientiane. Since then, he has devoted at least a month's worth of his time supporting LRC in YSS and in preparing relief items, the same way that he has been doing for the last few days.
Phoungern is a warm-hearted person with a wish to bring happiness and smiles to vulnerable people. It is to no one's surprise that this year he has enrolled into a medical university in Vientiane with a dream of bringing a healthy life to all. He was wiping sweat on his forehead when he said "I admire how the communities, both national and international, have been pouring their hearts to relieve people of their plights. Why wouldn't we, the people who are living here, do even just a little bit to help our neighbours too?"
Story by: Hung Ha Nguyen, Community Safety Resilience Manager, IFRC CCST Bangkok