Regional Interreligious and intercultural dialogue | Myanmar
24 January , 2015

-

25 January , 2015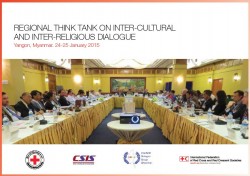 Purpose: The Center for Strategic and International Studies-Myanmar Development Resources Institute (CSIS-MDRI), Interfaith Dialogue Group (Myanmar), Myanmar Red Cross and the IFRC hosted a regional think tank focusing on inter-cultural and inter-religious dialogue in Yangon from 24-25 January 2015. The think tank dialogue is another part of the ongoing series, the Red Cross Red Crescent Doha Dialogue on Migration. The first event took place in May 2014 in Doha, bringing external partners such as the International Organization for Migration, State of Qatar Ministry of Foreign Affairs, Migrant Forum in Asia, international NGOs, NGOs and others, in order to strengthen inter-regional collaboration on the issues relating to labor migration.
Overview:
Usage: Learning from experience
Audience: National Society Leadership, Technical staff, Communication staff
For Agenda of the dialogue, click here Agenda, size 0.58 MB
Content of the training:
Main facilitation were held in English with direct/simultaneous translations to be provided during the sessions.  However, most of the power point presentations were in English.
Basic Terminologies | see similar Powerpoint presentation, Session plan, Group Exercise
Basics of Climate Science and its Humanitarian Consequences: Powerpoint presentation | Session plan
Building Resilient Communities in a Changing Climate through the Red Cross Red Crescent Movement | Powerpoint presentation | Session plan, Resource: IFRC 30th Resolution 2007 | Climate Guide
Disaster Risk Reduction, Climate Change, and Sustainable Development: Synergies and Overlaps
Climate Change Adaptation and Climate Change Mitigation | see similar Powerpoint presentations and resources on Climate Change Adaptation | Powerpoint presentation on Climate Change Mitigation | Session plan on Climate Change Mitigation

Early Warning Early Action and 

Use of Forecast Information across different Timescales | Powerpoint presentation in Burmese | Early Warning Translation in Burmese | Reference: Early warning early action learning guidebook and learning manual
Health and Climate | Powerpoint presentation | Exercise
Gender, Diversity and Climate | Powerpoint presentation
Youth and Climate

Communicating Climate Change:  Public Awareness, Education, and the Use of Various Information Platforms

| Powerpoint presentation |Session Plan
Climate Policy Engagements and Advocacy | see similar Powerpoint presentation | Session plan
National Adaptation Plans (NAPs) and Nationally Determined Contributions (NDCs) | Powerpoint presentation | National Adaptation Programmes of Action (NAPA) of Myanmar
Climate Finance | Powerpoint presentation