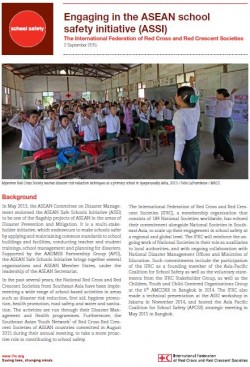 Purpose
This brochure reports on the contribution of national Red Cross and Red Crescent Societies to the ASEAN School Safety Initiative (ASSI). The ASSI is a project endorsed by the ASEAN Committee on Disaster Management to be one of the flagship projects of ASEAN in the areas of Disaster Prevention and Mitigation. It is a multi-stakeholder initiative, which endeavours to make schools safer by applying and maintaining common standards to school buildings and facilities, conducting teacher and student trainings, school management and planning for disasters.
Overview
The contributions of the Red Cross and Red Crescent Societies include: implementing joint activities with ASEAN Member States and partners including community-based networks of young people and volunteers to strengthen the School Safety Initiative; promoting the Public Awareness Public Education (PAPE) Guidelines and key messages to ASSI partners; enhancing joint learning processes; improving knowledge and information management including increasing use of new technologies and innovative approaches; and promoting peer-to-peer collaboration among National Societies, public authorities and external partners.
The document also includes a call to ASEAN Member States to: recognise National Red Cross and Red Crescent societies in Southeast Asia as key implementing partners for the operationalisation and expansion of ASSI; enhance the in-country partnership between national disaster management offices, education ministries and National Societies as well as other technical partners, with the aim of promoting a comprehensive School Safety Framework; and recognise the Red Cross / Red Crescent contribution to school safety as part of the ASEAN School Safety Initiative.
Usage: Learning from experience; Policy guidance
Audiences: National Society leadership; Technical staff

Document Data
Publication date:
Status: Final Type: PDF Size (MB): Size: 0.6
You might be interested in these resources: